1.25G 1000Base-SX SFP Module
Short Description:
1.25G,Duplex LC Connector,1000Base-SX,
Wavelength:850nm or 1310nm,Multimode Fiber,transmission distance to 550m(1804 feet),
Compatible with Cisco/3COM/Huawei/ZTE/HP switch and routers
Payment Terms: Paypal,western union,L/C,D/A,D/P,T/T
Description
Specification
Application
Order information
Questions&Comments
Product Tags
Description:
   The 1.25G SFP optical module is  Small Form Factor Pluggable (SFP) transceivers are compatible with the Small Form Factor Pluggable Multi-Sourcing Agreement (MSA). They simultaneously comply with Gigabit Ethernet as specified in IEEE Std 802.31 and 1x and 2x Fiber Channel as defined in FC-PI 13.03.
The 1000BASE-SX (short wavelength) GBIC module operates on standard multimode fiber-optic link spans of up to 1804 feet (550 m).
The 100BASE-SX SFP module is a hot-swappable device that plugs into a Gigabit Ethernet SFP port. It provides full-duplex 100-Mbps connectivity over multimode fiber (MMF) infrastructures. The 100BASE-SX SFP operates on ordinary MMF optical link spans of up to 1.2428 miles (2 km) in length.
Features:
Up to 1.25Gb/s bi-directional data links
              Hot-pluggable SFP footprint
           850nm , Multimode Fiber
       Duplex LC connector
       Very low jitter
        Up to 550m on Multimode fiber
              Metal enclosure, for lower EMI
       Single 3.3V power supply
       Low power dissipation <700mW typical

Block Diagram of Transceiver: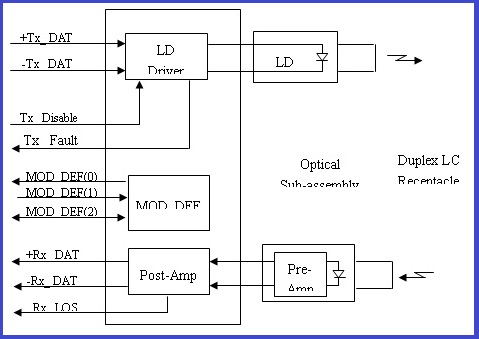 Application:
Switch to switch interface
High speed I/O for file servers .
Bus extension applications
Optical Characteristics (TOP = 0 to 70℃, VCC = 3.00 to 3.60 Volts)
Parameter

Symbol

Min

Typ

Max

Unit

Ref.

Transmitter

Output Opt. Power

POUT

-15

dBm

1

Optical Wavelength

λ

1270

1310

1360

nm

2

Optical Modulation Amplitude

OMA

174

μW

2,3

Optical Rise/Fall Time

tr/ tf

100

160

ps

4

RIN

-120

dB/Hz

Deterministic Jitter Contribution

TX Δ DJ

20

56.5

ps

5

Total Jitter Contribution

TX Δ TJ

70

119

ps

Optical Extinction Ratio

ER

9

dB

Receiver

Average Rx Sensitivity @ 2.125

RSENS1

-21

dBm

6, 7

Gb/s (2X Fiber Channel)

Average Rx Sensitivity @ 1.25 Gb/s

RSENS2

-22

dBm

6, 7

(Gigabit Ethernet)

Average Rx Sensitivity @ 1.06 Gb/s

RSENS1

-22

dBm

6, 7

(1X Fiber Channel)

Stressed RX sens. =1.25 Gb/s

-18

-14.5

dBm

Average Received Power

RxMAX

0

dBm

Receiver Elec. 3 dB cutoff freq.

1500

MHz

Optical Center Wavelength

λC

1265

1600

nm

Return Loss

12

dB

LOS De-Assert

LOSD

-23

-19

dBm

LOS Assert

LOSA

-30

-25

dBm

LOS Hysteresis

0.5

dB
Recommend Application Circuit: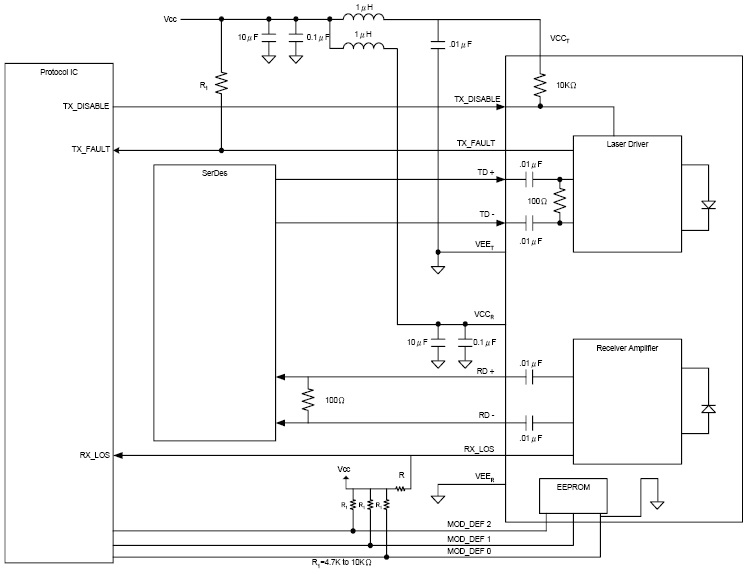 | | |
| --- | --- |
| BDTRP485L1MN-0.5 | 1.25G SFP module,Duplex fiber,LC Connector,1000Base-SX,850nm,Multimode Fiber,550m(1804 feet) |