63E1 STM-1 Terminal Multiplexer
Breve descripción:
Condiciones de pago: Paypal, Western Union, L / C, D / A, D / P, T / T
Descripción
Especificación
Solicitud
Información del pedido
Preguntas y Comentarios
Etiquetas de productos
Visión de conjunto
As a key member of Baudcom "MetroEdge-Express" SDH/MSPP Product family, BD-SDH63 is a carrier-class, cost-effective, compact (only 1U high) SDH/MSPP platform that is designed for applications in metro and access networks to facilitate the efficient transport of traditional TDM and emerging data traffic for service providers. It can provide 63E1 TDM interfaces in only 1Ustandard 19" box. BD-SDH63 is best suitable for point-to-point network or standard SDH TM node. Working together with other "MetroEdge-Express" family member, it can support various network topologies such as point-to-point, chain, ring, hub, and mesh networks.
Características
1.       1U box SDH/MSPP with 1 or 2 STM-1 optical interfaces and 63E1 interface.
2.       Optical interface supports ALS (Auto Laser Shutdown) function
3.       Inter-working with popular SDH/MSPP products of various vendors
4.       Support TUG3-TUG2-TU12 tributary channel numbering and time slot numbering at ease
5.       Support internal, STM-1 line clock, external and tributary clocking
6.       LCD display for system configuration and alarm
7.       Support remote power-off alarming function
8.       SDH/MSPP core, PDH price
9.       Support online upgrading
10.   Easy commissioning and maintenance
11.   High integration, compact design
12.   High reliability, low CAPEX and OPEX

 Technical Specification
Index

Performance Parameter

SDH Interface

Max

1~2 STM-1 optical interfaces (1+1 MSP supported)

Connector

SC/PC

Spec.

S-1.1, L-1.1, L-1.2

Single fiber bi-directional interface can be optionally supported

PDH interface

E1 Spec.

Comply with G.703, 2.048Mbps, HDB3

Max E1

63E1

Data

RS485

Asynchronous RS485 data

Management

Protocol

SNMP or Q3

Interface

10Base-T and RS485

LCD Display

Supported

Physical Dimension

1U: 440 × 44 ×230 (mm)

Potencia

Supply

-48V DC or 220V (110V) AC or dual power supply

+24VDC

Consumption

≤15 w

Environment

Temperature

0°C~50°C

Humidity

≤90 %

Two SDH63 point to point application

          Two 63E1/STM-1 converter connect by the SDH network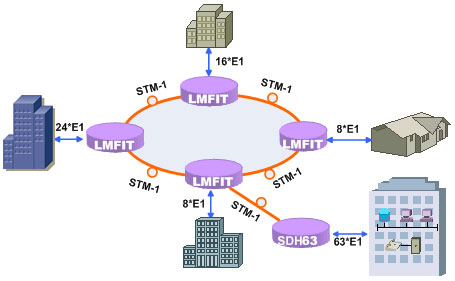 SDH63 chain application
| | |
| --- | --- |
| BD-SDH63/AC | 63E1 to STM-1 terminal multiplexer,E1 120ohm,one STM-1,power AC 220V |
| BD-SDH63-DF/AC | 63E1 to STM-1 terminal multiplexer,E1 120ohm,two STM-1 (1+1MSP),power AC 220V |
| BD-SDH63-DF/AC+DC | 63E1 to STM-1 terminal multiplexer,E1 120ohm,two STM-1 (1+1MSP),two power AC 220V+DC 48V |