Multiservice SDH Platform with 6Ethernet
Short Description:
Payment Terms: Paypal,western union,L/C,D/A,D/P,T/T
Description
Specification
Application
Order information
Questions&Comments
Product Tags
Optical Mux STM-1 155M with 6ethernet and 16E1 is developed based on SDH and EOS technology, which is fully compliant with ITU-T standard. This equipment provides users with two (A and B) STM-1 optical interfaces and at most 6 Ethernets ports. It features VC-12 cross-connect and channel protection. Besides,the SDH mux device can be used as an 
add-drop multiplexer
 or a
terminal multiplexer
 to establish chain networks and ring networks of point-to-point and point-to-multipoint.
PRODUCT CHARACTERISTIC
 Integration of SDH and EOS allows the access of various services.
 Provide up to 6 physically independent 10/100Mbps Ethernet interfaces.
 Multiple clock modes available, including 
crystal oscillating
 clock, line-extracted clock and external clock 2MBIT/2MHZ.
 Complete LED alarm indication on front panel.
 Dual SDH optical or electrical interfaces for the set-up of chain network or redundant ring network.
 FC/SFP optical transceivers available, FC by default.
 Network-wide management, simple configuration.
 DC48V and AC220V power supply optional.
Optical interface parameters
| | |
| --- | --- |
| Rage | 155.520Mbps±4.6ppm |
| Compliance | ITU-T G.957/G.958 |
| Media types | ITU-T G.652/G.653,SM |
| Wavelength | 1310nm |
| No-relay transmitting range | 40km |
| Sensitivity | Better than -36dB |
| Connector | FC/SC) |
| Interface | S-1.1/L1.1/L1.2) |
Name

Unit

155Mbps optical interface

Transmitting code

NRZ code

Digital signal

Nominal bit rate error tolerance

Code compliant with G.957

kb/s

Compliant with G.707,G.958

155.52Mbit/s±4.6ppm

S-1.1

L-1.1

L-1.2

Working wavelength

Nm

1261~1360

1280~1335

1480~1580

Sender at reference point S

—Type of light source

spectral characteristic:

—maximum rms value width

—maximum?shy;20dB width

—minimum SMSR

Average Optical Transmit Power

—maximum

—minimum

—minimum extinction ratio

nm

nm

dB

dBm

dBm

dB

MLM

7.7

—

—

-8

-15

8.2

MLM

4

—

—

0

-5

10

SLM

—

1

30

0

-5

10

SLM

—

1

30

0

-5

10

Optical path at point S and point R

—attenuation range

—maximum dispersion

Optical cable facility at S point

—minimum return loss

—maximum       discrete reflectance  between point S and point R

dB

ps/nm

dB

dB

0~12

96

NA

NA

10~28

185

NA

NA

10~28

NA

NA

NA

10~28

NA

20

-25

Receiver at reference point R:

—minimum sensitivity(when BER is 10E?shy;10)

—minimum overload(when BER is 10E?shy;10)

—maximum optical path penalty

—maximum reflection of the receiver at point R

dBm

dBm

dB

dB

-28

-8

1

NA

-34

-10

1

NA

-34

-10

1

NA

-34

-10

1

-25
Power supply                        
working voltage range wide, good
anti-disturb and Isolation, work stable
option I – DC-48V,range DC-36V~DC-72C   
option II – AC220V,range AC90V~AC260V
Power Consumption:   <=3 Watts
Environment condition                  
Operating temperature:  0C~+50 C
Storage temperature:   -20 C~+70 C
Relative temperature:95% (uncondensed)
E1 interface:
Interface code:     HDB3 code
Line speed:         2.048Mbp/s ±50ppm
Interface standard:    ITU-T G 703
Interface impedance:
75Ω/unbalanced (BNC) or120Ω/balanced (RJ45)
Allowed attenuation: 0~6dBm
10/100Base-T Port:
Rate:     10/100M, full/duplex auto-negotiation
Protocol:    Support IEEE 802.3, IEEE 802.1Q (VLAN)
MAC Address Entiries:     4096 Entiries
Connector:               RJ45
Application 1: Point to point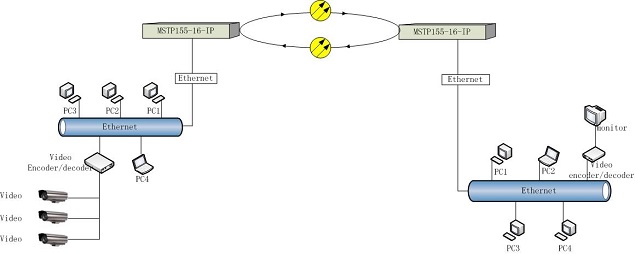 Application 2: Chain network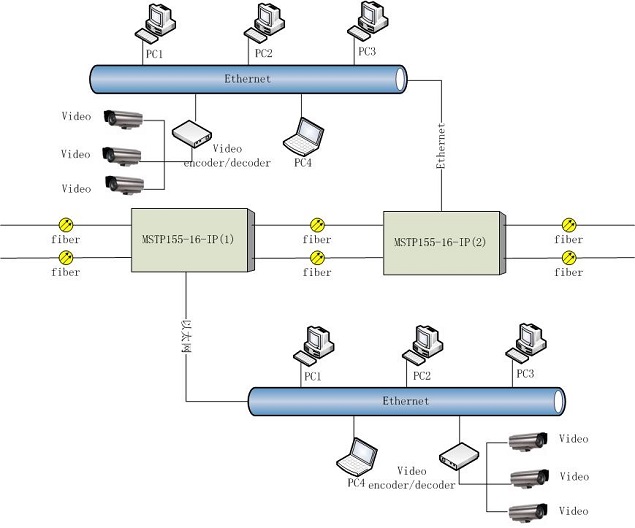 | | |
| --- | --- |
| BD-MSTP155-8-IP | multiservice SDH platform,8E1,6*10/100M ethernet,STM-1,dual fiber,20km,power AC 220V or DC 48V |
| BD-MSTP155-16-IP | multiservice SDH platform,16E1,6*10/100M ethernet,STM-1,dual fiber,20KM,power AC 220V or DC 48V |