32 ports fxs/fxo Analog Voice Gateway / IPPBX
Short Description:
Overview: Analog Gateway/IPPBX locates at the interface between PSTN and IP to achieve the conversio…

Payment Terms: Paypal,western union,L/C,D/A,D/P,T/T
---
Description
Specification
Application
Order information
Q&A
Product Tags
Reviews
Description
Overview:
Analog Gateway/IPPBX locates at the interface between PSTN and IP to achieve the conversion between FXO/FXS and VoIP SIP,meanwhile complete the media stream transformation between the bearer channel of PSTN and IP.
Application:
Used for IPCC, IP Dispatch, Unify Communication, VoIP network, operators, and so on.
Specification:
Signaling:SS7, PRI, R2, CAS, Q.SIG, V5.2, and DPNSS;
VoIP Protocol: SIP and H.248;
Codec: G.711 U-Law and A-Law, G.711 Appendix 1, G.723.1 and G.723.1 Annex A, G.729 Annex A and Annex B, G.726-16,G.726-32,GSM,GSM-EFR,ARM,ARM-WB, ILBC;
Fax Protocol:T30, T38, pass through;
Network Protocol: IP, NAT, ICMP, ARP, HTTP, BOOTP, FTP, TFTP, DHCP, PPPOE, SNMP, Diff-Serv;
Advanced Voice Processing Technology: Voice Activity Detection (VAD), Comfort Noise Generation (CNG), Echo Cancellation, DTMF, Caller ID, and Flexible input/output Gain Control.
Physical Capacity and Specification:
| | |
| --- | --- |
| Item | BD-VOIP-32FXS/FXO |
| Analog fxs/fxo Port | 32 FXO\FXS |
| E1 port (PCM) | 0-4 E1 |
| VOIP IP Channels | 128 |
| SIP Subscribers | 16-1024 |
| Ethernet Interface | 2 (10/100/1000M Base-T |
| CONSOLE | 1 (RS232 port) |
| SIP Compatibility | CISCO, Siemens, AVAYA, Huawei, ZTE, etc. |
| Input voltage | DC -48V or AC 110-240V |
| Power | 40W |
| Telephone line transmission distance | 10KM |
| Machine Dimension | 480mm*286mm* 44mm (1U) |
| Weight | 4KG |
| Weight Work Environment | 0℃~50℃, Less 80% |
Question1: We have an application, need to make FXO connect to PBX via E1 (32FXO–E1–PBX), does the VOIP support the application?
Answer: yes
Question2: We find that the FXS/FXO media converter have E1 port and Ethernet port. Can both the E1 port and Ethernet be used as uplink port?
Answer: yes. The  voip media converter can be used as FXS+E1——ethernet network  or FXS/O+SIP ethernet —E1
Question3: I need to configure the gateway so that each FXS entry corresponds to a single SIP account. For both incoming and outgoing calls. You can do it? by way of example: when an incoming call rings for example on the FXS port number 32, then only the telephone of the SIP account 1032 should ring. And when the SIP account 1032 makes a call, it must only do so through the FXS port number 32. The same for SIP 1022 and FXS port number 22. Same as all FXS ports.
Answer: yes. BAUDCOM voip gateway can support the function. The function can be configured by web management or telnet management. If you have any problem about the voip configuration,please let us know. Our engineer will support you.
Question4: We have a 512kbps satellite link between two sites.  Can we deploy your fxs/fxo voip equipment between the two sites and get good voice quality?
Answer: yes. BAUDCOM voip gateway can support your application.
PBX FXO–voip device A——ethernet——statellite link—–ethernet—–voip device B—FXS telphone
Question5: Would like to ask if this FXO gateway requires polarity signal when converting the analog lines?
Answer:  Our VOIP FXO gateway do not request polarity signal for FXO lines.
Question6: Currently we are using another brand 32 ports FXO gateway which requires polarity signal when calling outbound. It causes "abnormal call behavior" which is when you dial a non-existing phone number is still answered by the gateway instead being rejected. I'm just making sure that it does not have same functionatility with the other one because analog lines in the Philippines does not have polarity.
Answer: our fxo gateway don't have "abnormal call behavior" problem. Our voip gateway device have been successfully used in many countries around the world.
Question7:  Do baudcom fxo gateway supports/able to call number starting with #. (ex. #87000) ?
Answer: support
Question8: Do your FXS/FXO voip gateway support  G.729 codec?
Answer: yes.
Application
1.   Basic application
 2.   Connection for two different places/offices via FXS VoIP Gateway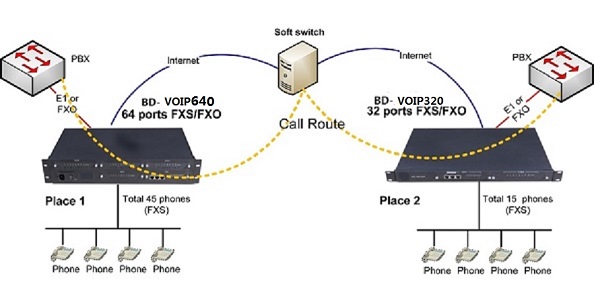 3.Function and Features of IPPBX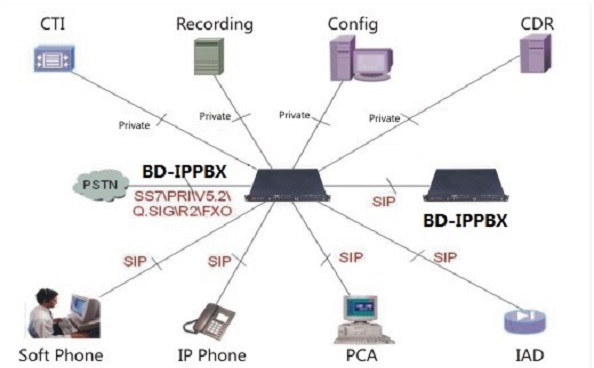 4.Solutions for IP call center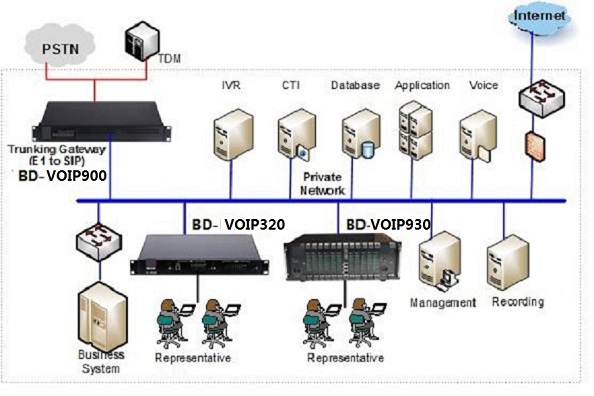 5.Example Application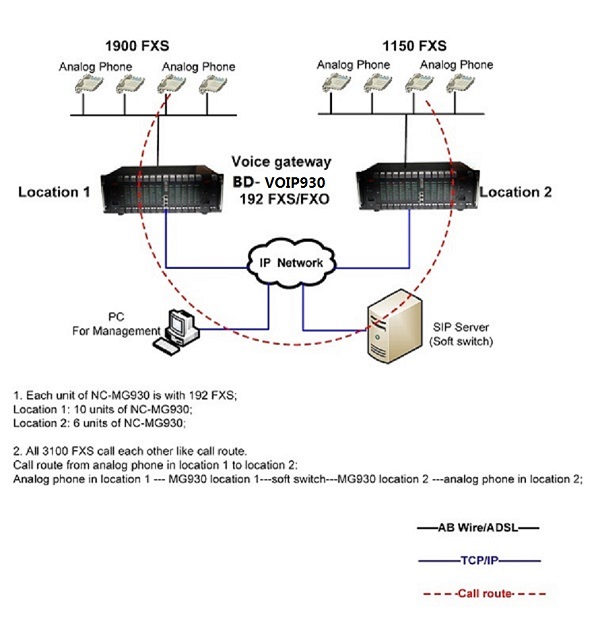 Order information
| Product Model | Descriptions | Inquiry |
| --- | --- | --- |
| BD-VOIP-32FXS | 32FXS VOIP Gateway,One power supply (AC orDC), 32*FXS ports to SIP,2*100Base-Tx,1*Console port,1U,19inch rack mount | Request Price |
| BD-VOIP-32FXO | 32FXO VOIP Gateway,One power supply (AC orDC), 32*FXO ports to SIP,2*100Base-Tx,1*Console port,1U,19inch rack mount | Request Price |