RoHS Compliant 40Gb/s QSFP+ 10km Optical Transceiver
Short Description:
BD-QSFP-CD10 is 40Gb/s QSFP+ 10km Optical Transceiver which has Four-Channel, Pluggable, Parallel, F…

Payment Terms: Paypal,western union,L/C,D/A,D/P,T/T
---
Description
Specification
Application
Order information
Q&A
Product Tags
Reviews
Description
BD-QSFP-CD10 is 40Gb/s QSFP+ 10km Optical Transceiver which has Four-Channel, Pluggable, Parallel, Fiber-Optic QSFP+ Transceiver for InfiniBand QDR/DDR/SDR, 10G/8G/4G/2G fiber channel. and SAS Applications. The QSFP full-duplex optical module offers 4 independent transmit and receive channels, each capable of 10.3Gbps operation for an aggregate data rate of 40Gbps 10km using single mode fiber. These modules are designed to operate over single mode fiber systems using 1310nm DFB laser array. An optical fiber ribbon cable with an MPO/MTPTM connector can be plugged into the QSFP module receptacle. QSFP+ PSM LR4 is one kind of parallel transceiver which provides increased port density and total system cost savings.  
Product Features
Four-channel full-duplex transceiver modules
●Transmission data rate up to 11.2Gbit/s per channel
● Up to 10km transmission of single mode fiber
● DFB laser array inside
● Low power consumption <2.5W,
● Operating case temperature:0°C to +70°C
● 3.3V power supply voltage
● RoHS 6 compliant
● Hot Pluggable QSFP form factor
● Single MPO connector receptacle
● Built-in digital diagnostic function
 Applications
InfiniBand QDR, DDR and SDR
●40G Ethernet
● Proprietary High Speed Interconnections
Data center                      
 Absolute Maximum Ratings
| | | | | | |
| --- | --- | --- | --- | --- | --- |
| Parameter | Symbol | Min. | Max. | Unit | Note |
| Supply Voltage | Vcc | -0.3 | 3.6 | V | |
| Storage Temperature | TS | -40 | 85 | °C | |
| Relative Humidity | RH | 0 | 85 | % | |
| Damage Threshold, per Lane | DT | 3.4 | | dBm | |
Note: Stress in excess of the maximum absolute ratings can cause permanent damage to the transceiver.
 General Operating Characteristics
Parameter
Symbol
Min
Typ
Max
Units
Note
Bit Rate per Lane
BR
 

 

10.313
Gb/s
1
Bit Error Ratio
BER
 

 

 

 

10-12

 

 

 

 

2

 

Distance on SMF
D1
 

 

 

 

10
Km
3
Notes:
Compliant with 40G Ethernet. Compatible with 1/10 Gigabit Ethernet and 1/2/4/8/10G Fibre Channel.
Tested with a PRBS 231-1test pattern.
Per 40GBASE-LR4, IEEE 802.3ba.
Optical Characteristics (TOP(C) = 0 to 70 ℃,VCC = 3.13 to 3.47 V)
Parameter
Symbol
Min.
Typ
Max.
Unit
Note
Transmitter
Operating Wavelength
λc
1270
1310
1350
nm
Ave. output power
PAVE
-5.2
+1
dBm
Difference in launch power

between any two lanes (OMA)

DL
5
dB
Extinction Ratio
ER
3.5
dB
Peak power, each lane
PP
4
dBm
Dispersion penalty, each lane
TDP
3.5
dB
Average launch power of OFF

transmitter, each lane

POFF
-30
dB
Eye Mask coordinates:

X1, X2, X3, Y1, Y2, Y3

SPECIFICATION VALUES

0.23, 0.34, 0.43, 0.27, 0.35, 0.4

Hit Ratio =

5×10-5

Receiver
Operating Wavelength
λc
1270
1350
nm
Stressed receiver sensitivity in OMA(OLSQ854XM-CDS1)
PSEN1
-12.5
dBm
3
Average Receive Power,each lane
PAVE
-11
+2.4
dBm
Receiver Reflectance
Rrx
-12
dB
LOS Assert
Pa
-30
dBm
LOS De-assert
Pd
-15
dBm
LOS Hysteresis
Pd-Pa
0.5
dB
Notes:
Measured with conformance test signal at TP3 for BER = 10-12Receiver Characteristics
Pin Defintion And Functions
Pin
Symbol
Name/Description
Notes
1
GND
Ground
1
2
Tx2n
Transmitter Inverted Data Input
3
Tx2p
Transmitter Non-Inverted Data Input
4
GND
Ground
1
5
Tx4n
Transmitter Inverted Data Input
6
Tx4p
Transmitter Non-Inverted Data Input
7
GND
Ground
1
8
ModSelL
Module Select
1
9
ResetL
Module Reset
10
Vcc Rx
+3.3 V Power supply receiver
11
SCL
2-wire serial interface clock
12
SDA
2-wire serial interface data
13
GND
Ground
1
14
Rx3p
Receiver Non-Inverted Data Output
15
Rx3n
Receiver Inverted Data Output
16
GND
Ground
1
17
Rx1p
Receiver Non-Inverted Data Output
18
Rx1n
Receiver Inverted Data Output
19
GND
Ground
1
20
GND
Ground
1
21
Rx2n
Receiver Inverted Data Output
22
Rx2p
Receiver
Non-Inverted
22
Rx2p
Receiver Non-Inverted Data Output
23
GND
Ground
1
24
Rx4n
Receiver Inverted Data Output
25
Rx4p
Receiver Non-Inverted Data Output
26
GND
Ground
1
27
ModPrsL
Module Present
28
IntL
Interrupt
29
Vcc Tx
+3.3 V Power supply transmitter
30
Vcc1
+3.3 V Power S

upply

31
LPMode
Low Power Mode
32
GND
Ground
1
33
Tx3p
Transmitter Non-Inverted Data Input
34
Tx3n
Transmitter Inverted Data Input
35
GND
Ground
1
36
Tx1p
Transmitter Non-Inverted Data Input
37
Tx1n
Transmitter Inverted Data Input
38
GND
Ground
Notes:
Circuit ground is internally isolated from chassis ground.
Other Pin Descriptions:
ModSelL Pin
The ModSelL is an input pin. When held low by the host, the module responds to 2-wire serial communication commands. The ModSelL allows the use of multiple QSFP modules on a single 2-wire interface bus. When the ModSelL is "High", the module will not respond to any 2-wire interface communication from the host. ModSelL has an internal pull-up in the module.
ResetL Pin
Reset. LPMode_Reset has an internal pull-up in the module. A low level on the ResetL pin for longer than the minimum pulse length (t_Reset_init) initiates a complete module reset, returning all user module settings to their default state. Module Reset Assert Time (t_init) starts on the rising edge after the low level on the ResetL pin is released. During the execution of a reset (t_init) the host shall disregard all status bits until the module indicates a completion of the reset interrupt. The module indicates this by posting an IntL signal with the Data_Not_Ready bit negated. Note that on power up (including hot insertion) the module will post this completion of reset interrupt without requiring a reset.
LPMode Pin
Rayoptek PSM IR4operate in the low power mode (less than 1.5 W power consumption) This pin active high will decrease power consumption to less than 1W.
ModPrsL Pin
ModPrsL is pulled up to Vcc on the host board and grounded in the module. The ModPrsL is asserted "Low" when the module is inserted and deasserted "High" when the module is physically absent from the host connector.
IntL Pin
IntL is an output pin. When "Low", it indicates a possible module operational fault or a status critical to the host system. The host identifies the source of the interrupt by using the 2-wire serial interface. The IntL pin is an open collector output and must be pulled up to Vcc on the host board.
Power Supply Filtering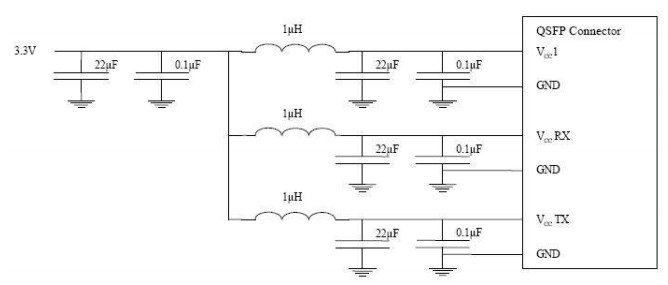 Optical Interface Lanes and Assignmen
The optical interface port is a male MPO connector .The four fiber positions on the left as shown in below, with the key up, are used for the optical transmit signals (Channel1 through4). The fiber positions on the right are used for the optical receive signals(Channel 4 through 1). The central four fibers are physically present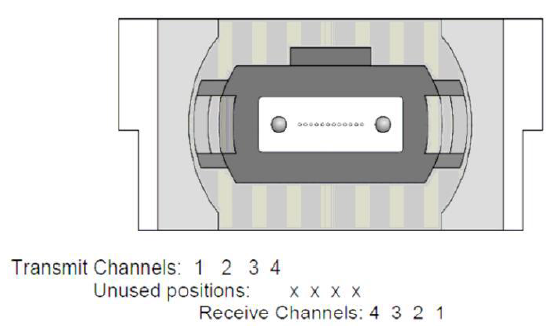 Package Dimensions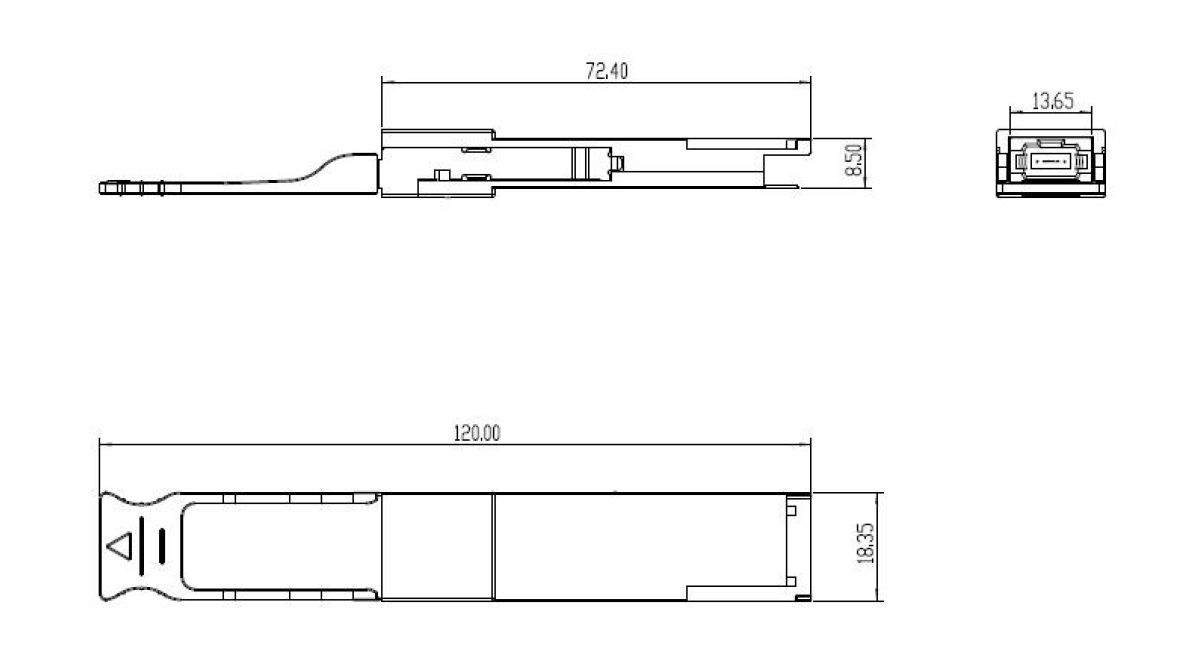 Order information
| Product Model | Descriptions | Inquiry |
| --- | --- | --- |
| BD-QSFP-CD10 | QSFP+,40Gb/s, CWDM wavelength 1310nm(4x10G) 10Km, 0~70℃ LC | Request Price |