4E1+4ETH Managable Fiber Multiplexer
Short Description:
Description The 4E1 fiber multiplexer is part of Multi E1 and Fast Ethernet transmission system fami…

Payment Terms: Paypal,western union,L/C,D/A,D/P,T/T
---
Description
Specification
Application
Order information
Q&A
Product Tags
Reviews
Description
Description
The 4E1 fiber multiplexer is part of Multi E1 and Fast Ethernet transmission system family, used to build a 150Mb/s optical point-to-point link. Based on an ASIC chip; it performs the transportation of 4 E1 and a fast Ethernet at full speed. The 4E1 fiber multiplexer (BD-OP-4E1-4ETH/M) also provides an order-wire and an auxiliary UART interface for Management. The OPTIMUX offers a highly integrated solution for the perfect function, stable performance and convenience with low power consumption.
The fiber optical multiplexer can support GUI management, which monitor the device's operation status. The user also can configure the device easily.
Features
  Merges the Ethernet and time-division multiplex (TDM) transmission to the same pipe.
   ●    Provides 4*E1 and 4*100Mb/s Fast Ethernet interface(sharing same 100M bandwidth).
        The standard E1 interfaces comply with ITU-T G.703, G.823 and G.742.
  Supports either auto-negotiation or hardware configuration selection of the Ethernet operation.
        The Ethernet interface supports VLAN and Flow Control function(set by RS232 NMS).
        Real-time Monitoring and all necessary alarm display for easy management.
        Supports Local and Remote Loop-back Test.
        Uses standard telephone set as order-wire(optional)
        Provides one transparent RS232 interface for user's data links.
        Provides RS232 interface for Network Management.
        Extends the fiber link up to 120 km without any repeater.
        Compact single board Terminal.
        Support power AC (100~220V) or DC (-48V), or double redunctant power AC+DC (optional).
Optical interface    
  Optical wavelength: 850nm/1310nm for multi- mode optical interface,
  1310nm/1550nm for single-mode optic interface
  Optical interface: SC/FC
  Receiving and dispatching module: >-6dBm
  Optical receiver receiving sensitivity <-36 (BER<10):
  Dynamic range receiving: >-30dB
  Transmitting range:
      Multi-mode fiber: 2 Km,
    single-mode fiber: 20Km, 40Km, 80 Km,120Km
  Vibration characteristic: Satisfies G.742 and the G.823 standard
E1 interface   
  Interface code: HDB3 code
  Line speed: 2.048Mbp/S ±50ppm
  Interface standard: ITU-T G 703
  Interface impedance: 75Ω/unbalanced or 120 Ω/ balanced
  Interface characteristic: supports rack (19 inches, 6U high)
10/100M Base-T interface
  Interface rate:10/100Mbps
  Interface characteristic: satisfies IEEE802.3, IEEE802.1Q
  Connector: RJ45
Order wire interface
  Standard two-wire phone
  64Kb/s PCM coding
  Dial Tone/Busy/Ring Back.
Working condition
  Input voltage: AC220V; AC 110V; DC-48V; DC+24V
  Power consumption: ≤5W
  Operating temperature: 0°C ~ 50°C
  Storing temperature:-40°C ~ +70°C
  Relative humidity: 95 %
Qustion: Can the fiber mux support the GUI/Console management?
Answer: Yes, the manageable fiber multiplexer support GUI/console management. The fiber mux device management is specially designed by our super engineers. Its NMS console management do not input command, the user can configure and monitor the device by GUI. It is very easily operation. (The traditional console management need to input commands, it is not easy to operate ,especially for the general user).
Application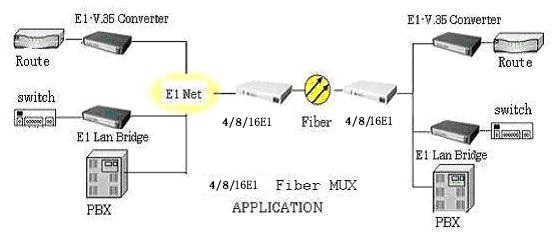 Order information
| Product Model | Descriptions | Inquiry |
| --- | --- | --- |
| BD-OP-4E1-4ETH/M/AC | 4E1 fiber multiplexer,4*100M Ethernet,75ohm or 120ohm,20km,dual fiber,GUI management,AC220V | Request Price |
| BD-OP-4E1-4ETH/M/DC | 4E1 fiber multiplexer,4*100M Ethernet,75ohm or 120ohm,20km,dual fiber,GUI management,DC48V | Request Price |
| BD-OP-4E1-4ETH/M/AC+DC | 4E1 fiber multiplexer,4*100M Ethernet,75ohm or 120ohm,20km,dual fiber,GUI management,double power AC220V+DC48V | Request Price |