EPON GPON ONU Stick SFP Module with MAC inside
Short Description:
FEATURES Single fiber bi-directional data links asymmetric TX 1244Mbps/RX 2488Mbps GPON ONU applicat…

Payment Terms: Paypal,western union,L/C,D/A,D/P,T/T
---
Description
Specification
Application
Order information
Q&A
Product Tags
Reviews
Description
FEATURES
Single fiber bi-directional data links asymmetric TX 1244Mbps/RX 2488Mbps GPON ONU application with GPON MAC function.
SC/UPC receptacle SFP with GPON ONU MAC inside,"Plug-and-play" via auto-discovery and configuration
1310nm DFB burst mode transmitter, 1490nm APD-TIA continuous mode receiver
0 to 70°C operating case temperature for BD-1234-SPM, C-Temp
-40 to 85°C operating case temperature for BD-1234-SPM, I-Temp
Single 3.3V power supply
Digital diagnostic monitor interface compatible with SFF-8472
SFP MSA compliance
Low EMI and excellent ESD protection
Class I laser safety standard IEC-60825 compliant
RoHS-6 compliance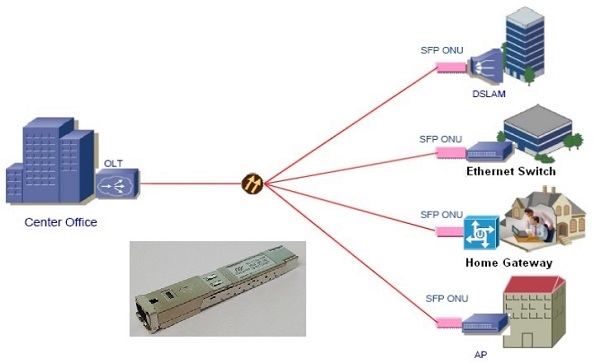 APPLICATIONS
Gigabit-capable Passive Optical Networks (GPON)
BD-1234-SPMis an MSA-compliant SFP that incorporates not just the optics for an ONU, but all of the electronics need as well. It is a "PON on a Stick" that an entire FTTH ONU in a slightly oversized SFP. It can be plugged
into netw orking equipment. Allow ing the data interfaces on a sw itch, router, PBX, etc. to be customized for different fiber environments and distance requirements
The BD-1234-SPMis designed as dual-mode ONU stick, it also supports the EPON ONU OAM. It
can be applied both on EPON system and on the GPON system .It w ill automatically establish an EPON link w ith the EPON OLT or GPON link w ith the GPON OLT.
STANDARDS
Complies w ith SFP Multi-Source Agreement (MSA) SFF-8074i
Complies w ith ITUT-T G.984.2, G.984.2 Amendment 1
Complies w ith ITUT G.988 ONU management and control interface (OMCI) specification
Complies w ith SFF 8472 V9.5
Complies w ith FCC 47 CFR Part 15, Class B
Complies w ith FDA 21 CFR 1040.10 and 1040.1
Tranmitter Optical Characteristics
Parameter
Symbol
Min
Typical
Max
Unit
Note
Optical Center Wavelength
λc
1290
1310
1330
nm
Spectral Width (-20dB)
∆λ
1
nm
Side Mode Suppression Ratio
SMSR
30
dB
Average Launch Optical Power
AOP
0.5
5
dBm
Launched into SMF Fiber
Burst off Average Output Power
–
-45
dBm
Extinction Ratio
ER
10
dB
Rise/Fall Time (20%-80%)
TR/TF
0.26
ns
Unfiltered PRBS 223 – [email protected] Mbps
RIN15OMA
-115
dB/Hz
Optical Return Loss Tolerance
-15
dB
Transmitter Reflectance
-10
dB
Transmit on 20km SMF.
Transmitter and Dispersion Penalty
TDP
1
dB
Optical Waveform Diagram
Compliant With ITU-T G984.2
PRBS 223 –1 @1244.16Mbps
Receiver Optical characteritics:
Parameter
Symbol
Min
Typical
Max
Unit
Note
Operating Wavelength
1480
1490
1500
um
Sensitivity
SEN
-28
dBm
PRBS 223 – 1 @2488Mbps
Saturation Optical Power
SAT
-8
dBm
Loss of Signal De-Assert
LOSD
-29
dBm
Loss of Signal Assert
0.5
dBm
Signal-Detected Hysteresis
6
dB
Reveiver Reflectance
-12
dB
λ=1490nm
WDM Fitter Isolation
38
dB
λ=1550nm
35
dB
λ=1650nm
 Question: Are the PON stick SFP module compatible with GPON and EPON system?
 Answer: Yes, the SFP module is dual-mode stick ONU, can be compatible with GPON and EPON.
 Question: Can the stick SFP module be compatible with Huawei/ZTE/Fiberhome and other brand OLT?
Answer: Yes,Baudcom stick ONU SFP module can work with Huawei OLT, ZTE OLT and other brand OLT.
Question:  Can this GPON ONU STICK SFP can changed MAC address and how to change?
Answer: The MAC address can not be changed. If you change the MAC address, the ONU stick module will not work normally (will reboot ag.
Question: Does the stick SFP module support update frimware OTA or manually upgrade with web gui?
Answer:  The SFP stick module can be upgrade firmware manually web gui.
Question: Can we change the stick module serial number?
Answer:  The SFP module stick serial number can be changed manually by telnet or web gui.
Question: What is the chipset in the stick module?
Answer:  The chipset is RTL9601C.
Question: I would like to inquire if your company offers GPON SFP ONU, that have interop with huawei, fiberhome, and nokia OLT?
Answer: Many of our clients have tested successfully the stick onu in Huawei and Fiberhome OLT. After you correct configuration in Nokia OLT, it can work in theory.
Question: Can we read the details of the SFP module as below ?
        ONT vendor code
        ONT model
        ONT Firmware Version
        ONT access mode
        ONT management Mode
         ONT Interface type?
Answer: Yes, these information can be read in OLT.