12core outdoor drop fiber optical cable with steel
Short Description:
Optical Fiber Cable Features Fiber color code Color-coding of the fiber will be clear, and not fade …

Payment Terms: Paypal,western union,L/C,D/A,D/P,T/T
---
Description
Specification
Order information
Q&A
Product Tags
Reviews
Description
Optical Fiber Cable Features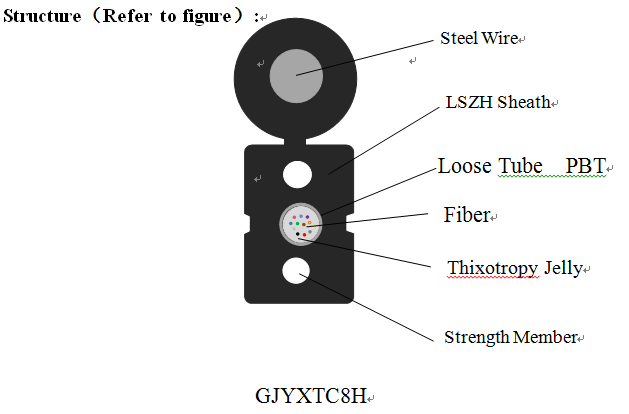 Fiber color code
Color-coding of the fiber will be clear, and not fade under the influence of the temperature of working and installation environment.
Construction
Item
Description
Cable Diameter
(3.2±0.2)×(6.6±0.3)mm
Optical Fiber
Type
G .657A1
Numbers
12
Fiber Color
Blue、Orange、Green、Brown、Gray、White 、

Red、Black、Yellow、Purple、Pink、Aqua

 

Loose Tube

 

Material
PBT
Outer Diameter
2.0±0.1mm
Filling(Fiber jelly)
Thixotropy Jelly
Loose Tube Color
Natural
Central Strength Member
Material
Phosphating steel wire
Outer Diameter
0.45±0.01mm
Approx. Cable Diameter
(3.2×4.5)±0.2mm
Steel Wire
Material
Phosphating Steel Wire
Diameter
1.0±0.03mm
Approx. Steel Wire Sheath Outer Diameter
2.0±0.2mm
LSZH Sheath of Cable
Material
 BLACK  LSZH
Approx. Cable Net Weight
32kg/km
Fiber Attenuation Coefficient in Cable
dB/km(1310nm)
≤0.4dB/km
dB/km(1550nm)
≤0.3dB/km
Mechanical and physical characteristics of the cable
Cable Type
Tensile Strength

(N)

Crush Resistance Strength

(N/100mm)

Min. Bending Radius

(mm)

Short Term
Long Term
Short Term
Long Term
Dynamic
Static
GJYXTC8H
600
300
2200
1000
20H
10H
Operation Temperature:-40℃~+60℃
Cable Marking
Unless otherwise required the sheath will be marked at intervals of 1m, containing:
(a) Indication in meters
(b) Quantity and type of fibers
(c) Factory name
(d) Date of manufacturing (year)
(e) Other requirements
The marks will be permanent and legible for the duration of the cable life.
Applications
Indoor cable distribution
Adapted to core network, access network and fiber to home
Packaging & Delivery
All cables will be delivered on drums with protection of both ends of the cable. Each drum will have a waterproof mark according to requirements.
Normal cable length:1 km, or as per the customer's requirements