1550nm External Modulated Optical Transmitter
Short Description:
The external modulated transmitter is specially developed for the CATV signal that satisfies HFC net…

Payment Terms: Paypal,western union,L/C,D/A,D/P,T/T
---
Description
Specification
Application
Order information
Q&A
Product Tags
Reviews
Description
The external modulated transmitter is specially developed for the CATV signal that satisfies HFC network, and the long-distance transmission of cable phone and cable data.This optical transmitter is a 1550nm DFB laser. The external modulated transmitter can be managed by console or WEB managed, easily mornitor and configure.
Working principle
It has 7 function modules: RF control, DFB laser, optical modulator, SBS control, CSO control, communication/display control and power supply.
Automatic gain control circuit (AGC) or manual gain control circuit (MGC) amplifies the RF signal. AGC or MGC control makes the optical modulator maintain a suitable input level. Use the detected RF root-meansquare(RMS)-total power to calculate the optical modulation index(OMI).
In general we recommend using the AGC function, and special users can use the MGC function to adjust the CNR/CSO/CTB performance indexes.
The core of transmitter is the optical modulator. The 1550nm signal input the optical modulator, make the laser intensity changed follow the external RF signal voltage, and then generate the AM optical signal.
Stimulated Brillouin Scattering (SBS) occurs, when the optical input power is greater than a certain threshold value. SBS generate the lower frequency backscattered light which will attenuate the transmission light and return to the laser while destroying its performance. Causing optical power fluctuation, generates large noise, and seriously deteriorates the system carrier to noise ratio (CNR). To improve the SBS threshold, this optical transmitter adopts SBS control technology which is independent researched and developed by ourselves. The threshold value can be set up to 19dBm.
The optical modulator has a two-way optical signal output. Parts of that signal are routed to an InGaAs photodiode. This detection of the optical signal has two functions:
1) Detect whether the laser is normal working. Once the output optical power is 2dB lower than standard power, alarm will be set off.
2) Detect CSO distortion to optimize the bias point of the optical modulator. For working normal the detector circuit needs at least two carrier signal inputs with an interval of 24MHz. There is a CSO initialization program in the boot process. If the CSO install failed, the RF indicator will flash red, see details in 6.2 Troubleshooting.
Block Diagram
Technique Parameters
Optical Parameters
| | | |
| --- | --- | --- |
| Item | Unit |            Value |
| Optical Wavelength | nm | 1545~1560 (or specified by the user) |
| Side-mode Suppression ratio | dB | >30 |
| Relative Intensity Noise | dB/Hz | <-160 |
| Wavelength Adjustment Range | GHz | +/-50GHz |
| Optical Power | dBm | 2*5, 2*7, 2*8, 2*9, 2*10 |
| SBS Threshold Value | dBm | +13~+19 (Continuously adjustable) |
| Laser Linewidth | MHz | 0.3 |
Technical Specification
Item
Unit
Technical Parameters
RF range
MHz
47~1003
RF flatness
 dB
+/-0.75
RF return loss
dB
 >16
RF input impedance
Ω
75
RF input connector type
  F type
Rated input level
dBμV
80
Input level range
dBμV
78~96 (AGC mode, modulating signal)
AGC control range
dB
+3~-3
MGC adjustable range
dB
0~15
Optical connector
SC/APC, FC/APC
Operating temperature
°C
-5~45
Storage temperature
°C
-30~+70
Power Source Specification
V
90~265VAC
36~72VDC
Consumption
W
≤60
Dimension
mm
483(L) × 455(W) × 44(H)
Total Weight
kg
5.5
Panel Interface and Menu System Description
Front Panel

| | | | | | |
| --- | --- | --- | --- | --- | --- |
| 1 | Power indicator | 2 | AGC indicator | 3 | RF modulation degree indicator |
| 4 | Laser indicator | 5 | LCD | 6 | ESC key |
| 7 | UP key | 8 | DOWN key | 9 | Enter key |
| 10 | RF input port (or on the rear panel, optional) | 11 | -20dB RF input test port | | |
Rear Panel

1
Ground stud
2
Power module
3
Fan
4
RF input port (or on the front panel, optional)
5
RS232 interface
6
LAN interface
7
Optical output interface A (or on the front panel, optional)
8
Optical output interface B (or on the front panel, optional)
Power Module
220V Power Module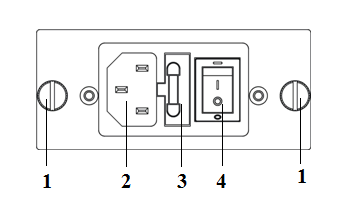 | | | | | | |
| --- | --- | --- | --- | --- | --- |
| 1 | Mounting screws | 2 | 220V power outlet | 3 | Fuse |
| 4 | Power switch |   | |   | |
48V Power Module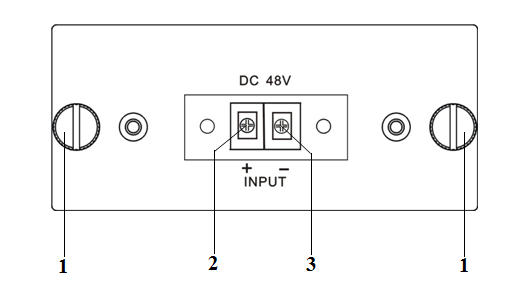 | | | | | | |
| --- | --- | --- | --- | --- | --- |
| 1 | Mounting screws | 2 | + Positive terminal block | 3 | – Negative terminal block |
WEB Network Management
Open the IE browser, type the IP address and enter the interface as follows: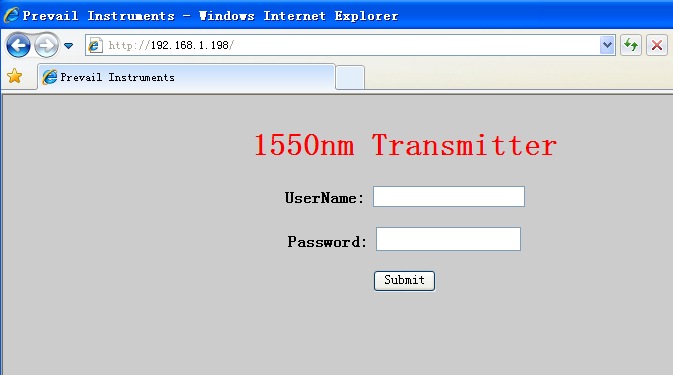 Application
High-performance long-distance transmission
High-power distribution network
Redundancy loop architecture
FTTx network
RFOG application
DWDM network