155M SFP Optical Transceiver
Short Description:
Features:  Hot-Pluggable, Duplex LC Connector  Single +3.3V Power Supply  LVPECL Data Interface  850…

Payment Terms: Paypal,western union,L/C,D/A,D/P,T/T
---
Description
Specification
Application
Order information
Q&A
Product Tags
Reviews
Description
Features:
 Hot-Pluggable, Duplex LC Connector
 Single +3.3V Power Supply
 LVPECL Data Interface
 850/1310/1550nm VCSEL/FP/DFB, SM/MM Fiber Optional
 Eye Safety, Designed to Meet Laser Class1
 Compliant with Telcordia (Bellcore) GR-468-CORE
Application:
 Switch to switch interface
 High speed I/O for file servers .
 Bus extension applications
Description:
The Small Form Factor Pluggable (SFP) transceivers are compatible with the Small Form Factor Pluggable Multi-Sourcing Agreement (MSA). The SFP transceiver supports dual data-rate of 155MGbps and from 20km transmission distance with SMF
Block Diagram of Transceiver: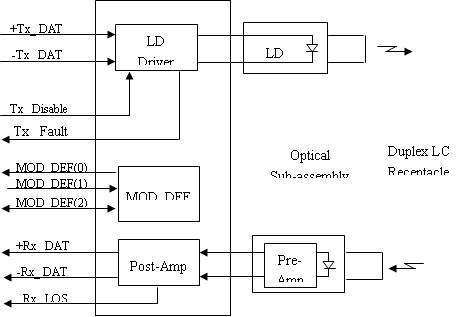 Electrical Characteristics (TOP = -40 to 85 ℃, VCC = 3.00 to 3.60 Volts)
Parameter
Symbol
Min
Typ
Max
Unit
Ref.
Supply Voltage
Vcc
3.00
3.60
V
Supply Current
Icc
200
300
mA
Transmitter
Input differential impedance
Rin
100
Ω
2
Single ended data input swing
Vin,pp
250
1200
mV
Transmit Disable Voltage
VD
Vcc – 1.3
Vcc
V
Transmit Enable Voltage
VEN
Vee
Vee+ 0.8
V
3
Transmit Disable Assert Time
10
us
Receiver
Single ended data output swing
Vout,pp
300
400
800
mV
4
Data output rise time
tr
100
175
ps
5
Data output fall time
tf
100
175
ps
5
LOS Fault
VLOS fault
Vcc – 0.5
VccHOST
V
6
LOS Normal
VLOS norm
Vee
Vee+0.5
V
6
Power Supply Rejection
PSR
100
mVpp
7
Deterministic Jitter Contribution
RX Δ DJ
51.7
ps
8
Total Jitter Contribution
RX Δ TJ
122.4
ps
Notes:
Non condensing.
AC coupled.
Or open circuit.
Into 100 ohm differential termination.
20 – 80 %
LOS is LVTTL. Logic 0 indicates normal operation; logic 1 indicates no signal detected.
All transceiver specifications are compliant with a power supply sinusoidal modulation of 20 Hz to 1.5 MHz up to specified value applied through the power supply filtering network shown on page 23 of the Small Form-factor Pluggable (SFP) Transceiver MultiSource Agreement (MSA), September 14, 2000.
Measured with DJ-free data input signal. In actual application, output DJ will be the sum of input DJ andDDJ.
 Optical Characteristics (TOP = 0 to70℃, VCC = 3.00 to 3.60 Volts)
Parameter
Symbol
Min
Typ
Max
Unit
Ref.
Transmitter
Output Opt. Power
POUT
-12
-5
dBm
1
Optical Wavelength
λ
1270
1310
1360
nm
2
Spectral Width
σ
3
nm
2
Optical Modulation Amplitude
OMA
174
μW
2,3
Optical Rise/Fall Time
tr/ tf
100
160
ps
4
RIN
-120
dB/Hz
Deterministic Jitter Contribution
TX Δ DJ
20
56.5
ps
5
Total Jitter Contribution
TX Δ TJ
70
119
ps
Optical Extinction Ratio
ER
10
dB
Receiver
Average Rx Sensitivity
RSENS1
-37
-34
dBm
6, 7
Overload Power
RxMAX
-3
dBm
Optical Center Wavelength
λC
1265
1600
nm
LOS De-Assert
LOSD
-35
dBm
LOS Assert
LOSA
-45
dBm
LOS Hysteresis
0.5
3
dB
Order Information
No
Parameter
Detailed Description
1
Module type
A =1X9
D=CWDM
F=SFF
G=GBIC
P=SFP
2
Data Rate
0=52Mb/s
1=155Mb/s
2=622Mb/s
4=1.25Gb/s
6=2.5Gb/s
3
Wavelength
85=850nm
13=1310nm
15=1550nm
35=Tx1310/Rx1550
53=Tx1550/Rx1310
4
Connector
S=SC
L=LC
F=FC
R=RJ5
M=MTRJ
P=Pigtail
5
Temperature
1=0~70C
2=-0~85C
6
Fiber type
S=Single Mode
M=Multi Mode
7
Features
SFP:
D=DDM
N=No DDM
SFF:
1=2X5
2=2X10
Other:
3=+3.3V
5=+5V
8
Distance
Eg: BDTRXXXXXXXX-0.5 Mean:Distance=0.5km

ooooBDTRXXXXXXXX-80 Mean:Distance=80km
For example:
Part No.
Specifications
Application
Type
Data Rate
Distance
Wavelength
Connector
Voltage
BDTRP435L1SD-20
SFP
1.25Gb/s
20km
1310nm
LC
+3.3V
Gigabit Ethernet
Order information
| Product Model | Descriptions | Inquiry |
| --- | --- | --- |
| BDTRP113L1SN-20 | 155M SFP Transceiver,20km transmission,LC conector,wavelength 1310nm | Request Price |
| BDTRP113L1SN-40 | 155M optical module,dual fiber,40km transmission,LC conector,wavelength 1310nm | Request Price |
| BDTRP113L1SN-80 | 155M optical SFP,80km transmission,dual fiber,1550nm | Request Price |