8*10/100M GEPON ONU
Short Description:
Brief Views GEPON ONU BD-ONU-108B Pure Data-Type ONU is a Passive Optical Networking CPE, based on t…

Payment Terms: Paypal,western union,L/C,D/A,D/P,T/T
---
Description
Specification
Application
Order information
Q&A
Product Tags
Reviews
Description
Brief Views
GEPON ONU BD-ONU-108B Pure Data-Type ONU is a Passive Optical Networking CPE, based on the broadband access of EPON technology,providing an integrated solution of the broadband access to the user based on the EPON technology.
EPON Technology is a rising technology that combines with PON and Ethernet Technological superiority. It is a technology that point to multi-point networking. Through the Passive Optical Networking, the OLT device gather together with many ONU devices for interconnection, and it is combined with the technology of SFP BIDI, so EPON system could use less fiber resources to meet the needs of Operator about the multiuser for multiple service access.
EPON Technology is based on the technology of Ethernet, and EPON device is well compatible with the existing network. Meanwhile, EPON device provide the flexible and reliable QOS service to the customers based on the technology of DBA.
GEPON ONU BD-ONU-108B support symmetrical 1Gbps transmission rate of uplink and downlink, and communicate with the head-end device (BD-OLT-2000 OLT). It provides the customer with the guarantee of stable QOS, and the flexible bandwidth allocation of Ethernet and IP integrated service.
GEPON ONU BD-ONU-108B fully complies with IEEE technology standard, meeting the demands of domestic multiple operators about the EPON device technology.
ONU BD-ONU-108B has 1 SC/PC PON port and 8 10/100BASE-T ports.
 Functional Feature:
         Support port-based rate limitation and bandwidth control;
         In compliant with IEEE802.3ah Standard
         Up to 20KM transmission Distance
         Support data encryption, group broadcasting, port Vlan separation, RSTP,etc.
         Support Dynamic Bandwidth Allocation (DBA)
         Support ONU auto-discovery/Link detection/remote upgrade of software;
         Support VLAN division and user separation to avoid broadcast storm;
         Support various LLID configuration and single LLID configuration .Different user and different service could provide different QoS by means of different LLID channels.
         Support power-off alarm function ,easy for link problem detection
         Support broadcasting storm resistance function
         Support port isolation between different ports
         Support ACL and SNMP to configure data packet filter flexibly
         Specialized design for system breakdown prevention to maintain stable system
         Support software online upgrading
         EMS network management based on SNMP ,convenient for maintenance
 Specifications:
   Index
 Parameters
Specifications
Port Specification
PON Port
1 EPON SC/PC

In comply with 1000BASE-PX20 Standard

Port speed: Symmetrical 1.25Gbps

SC single mode single fiber

Splitting Ratio:1:64 at most

Transmission Distance: 20KM (Splitting Ratio >1:32)

User Port
Eight 10/100M adaptable Ethernet interface

Full duplex/Half duplex

RJ45 electrical port, Support Cross straight connection auto-negotiation.

Transmission Distance: 100 Meter

Power Supply Port
220VAC Power supply
Function Specification      
PON Optical Port Function
Wavelength: 1310nm TX, 1490nm RX

TX Power: -1~4dBm

Receiving Sensitivity: -27dBm

Saturation Optical Power: -3dBm

 

Data Transmission   Feature
PON Port Throughput: Downlink 950Mbps; Uplink 930Mbps

Ethernet Interface: 100Mbps

Packet Loss Rate: <1*10E-12

Transmission Delay: <1.5ms

Service Capability
Layer-two link rate switch

Support VLAN TAG/UNTAG, VLAN forward

Support Port speed limitation

Support QOS

Support broadcast Storm Limitation

Support RSTP

Device Management
Management Style
EMS Centralized Management by means of OAM protocol, Support SNMP, TELNET, CLI Management.
Management Function
Status monitoring, configuration management, Alarm Management, Log Management.
Status Indication 
LED
PWR: Power Indicator

OPTIN: Optical Signal Indicator

LINK: Registration Indications

LNK/ACT: Working Status Indication for Ethernet port
Application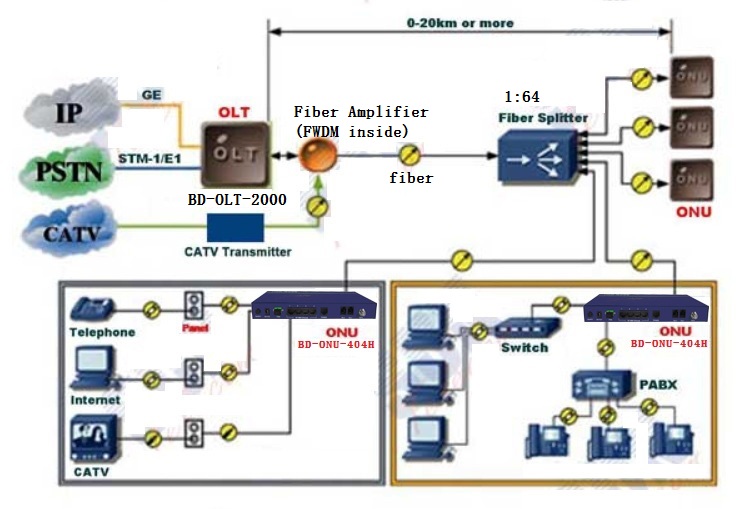 Order information
| Product Model | Descriptions | Inquiry |
| --- | --- | --- |
| BD-ONU-108B | GEPON ONU,8*10/100BASE-T,power AC220V | Request Price |