8E1 to 4Ethernet Converter with SNMP and console managment
Short Description:
Product function: BD-8E1-4ETH converter uses reverse multiplexing technology to transmit 10/100BaseT…

Payment Terms: Paypal,western union,L/C,D/A,D/P,T/T
---
Description
Specification
Application
Order information
Q&A
Product Tags
Reviews
Description
Product function:
BD-8E1-4ETH converter uses reverse multiplexing technology to transmit 10/100BaseT data with bonding multi E1 channels, thus realizing conversion between 1-8 E1 channels and Ethernet interface. It can transmit signals point-to-point from E1 channel to RJ45 interface to realize connection between E1 channel and Ethernet Lan.
The 8 E1 to ethernet converter provide 8E1 port and 4 10/100M ethernet ports. Line rate is 1968Kbit/s for one E1 channel and bandwidth can reach 15744Kbit/s for 8 E1 channels. When used in 10/100Mbps half/full duplex mode, this equipment can be connected with Ethernet switch or hub (integrated circuit machine) to expand transmitting distance and application scope of Ethernet by making full use of large number of E1 channels in current telecommunication network.
The 8E1 to 4etherenet LAN converter support SNMP network management and super terminal management.
The 8E1 to ethernet interface converter is an excellent solution for connecting Ethernet broadband. This product can be applied in many fields such as connection of LAN and end offices, video ordering (VOD), remote monitor and E1 interface of switches.
Features:
●   Realizes transparent transmission of Ethernet data in 1 to 8 E1 channels.
●   Ethernet supports 10M/100M, full/half duplex auto-negociation, supports VLAN.
●   Ethernet port supports AUTO-MDIX (cross over and straight through auto-adapt).
●   Setting CRC alarm limitation to auto isolate lines with low transmitting quality (being cut single-directionally); when error code rate of one direction in 2M branch exceeds the limitation, this direction is cut and the other direction will not be affected, namely the two transmitting directions of Ethernet can be unsymmetrical.
●   Allow 8 E1 channels up to 10ms transmission delay. When the delay exceeds allowed limit range, it can stop transmitting data automatically.
●   Has 2 loop back functions: E1 local loop, E1 remote loop.
●   Supports Dynamic Ethernet MAC address (4096) with local address filter function.
●   E1 interface compatible with ITU-T G.703, G.704, and G.823. not supporting signal timeslot.
●   E1 interface has internal clock recover circuit and HDB3 code/decode circuit.
●   Supports E1 channel hot plug, and auto detect effective E1 channels data transmission will not be cut.
●   Supports 1 to 8 E1 channels customized configuration, auto detect the number of E1 channels and select the available E1 when resetting.
●   Supports resetting remote system from local system.
●   Having Ethernet monitor auto reset function.
Parameter and specifications
E1 interface
Standard: E1 interface compatible with G.703 standard.
Rate: 2.048Mbit/s?50ppm
Coding: HDB3
Impedance: 75ohm ( unbalance) or 120ohm (balance)
Connector: BNC (75ohm) or RJ45 (120ohm)
Jitter Performance: According to G.742 and G.823
    10/100Base-T
Rate: 10M/100M, full/half duplex auto-adapt.
Protocol: Support IEEE 802.3, IEEE 802.1Q (VLAN)
MAC address table: 4096 MAC addresses.
Ethernet buffer: 64Mbits SDRAM
Physical interface: RJ45, support AUTO-MDIX (cross over and straight through auto-adapt)
Dimension
19inch rackmount type:433 mm(L)×138mm(W)× 44 mm(H)
Operating environment
Voltage: DC-48V , input range:     DC-36V~DC-72V
Power Consumption:       <=5 Watts
Working temperature: 0C~50C
Storage temperature:       -40C~+70C
Humidity:  95%
No causticity and solvent, dust free, and no strong magnetic interference.
Application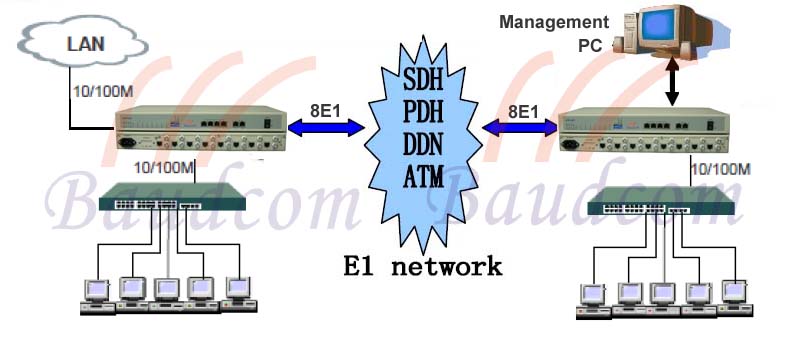 Order information
| Product Model | Descriptions | Inquiry |
| --- | --- | --- |
| BD-8E1-4ETH/75 | 8 E1 to ethernet converter,E1 ports 75ohm(BNC connector),4*10/100M ethernet,power AC220V or DC48V | Request Price |
| BD-8E1-4ETH/120 | 8 E1 to ethernet converter,E1 120ohm(RJ45 connector),4*10/100M ethernet,power AC220V or DC48V | Request Price |