Ethernet over Coax converter Slave Unit with Wifi
Short Description:
Introduction BD-EOC-S4-W is the EOC slave based on HomePlug AV solution for Ethernet access over coa…

Payment Terms: Paypal,western union,L/C,D/A,D/P,T/T
---
Description
Specification
Application
Order information
Q&A
Product Tags
Reviews
Description
Introduction
BD-EOC-S4-W is the EOC slave based on HomePlug AV solution for Ethernet access over coax. It works together with EOC master which is based on HomePlug AV solution as well to construct a two-layer Ethernet data transmission channel on CATV coax cable, provide the Ethernet access service based on the existing coax cable networking.
The built-in wifi module based on the single chip AR9331 which integrates an 802.11n 1×1 MAC/BB/ radio with internal PA and LNA. It supports 802.11n operations up to 72 Mbps for 20 MHz and 150 Mbps for 40 MHz channel respectively, and IEEE 802.11b/g data rates.
BD-EOC-S4-W is slave with 4 Ethernet ports with built-in Wifi.
Features
●   Low-frequency modulated EOC slave is adopted INT7400 chipset, HomePlug AV solution
●   Work at low frequency between 7.5MHz and 65MHz, without affecting the existing CATV
●   Physical layer speed: 500Mbps; Max MAC layer throughout is 300Mbps
●   Support 4 Ethernet ports with 10/100Mbps auto-negotiation function
●   Support VLAN configuration based on slave unit or slave's Ethernet ports
●   Support broadcast storm control
●   Support WEB, CLI and SNMP management
Wifi Features
●   MIPS 24K processor operating at up to 400 Mhz.
●   DD2 memory up to 512 Mb.
●   SPI NOR Flash memory up to 64Mb.
●   4LAN ports and 1 WAN port
●   SPI support.
Standard and Protocol Supported
●   Network access
●   VOD(video on demand service)
●   IPTV
●   Video Surveillance
Question: Does the EOC Question1: slave device supporting PPOE ?static IP and dhcp etc
Answer: Yes,the EOC slave with wifi device support these router function (PPPOE,static IP and DHCP etc).
The EOC slave without the wifi,can not support the router functions.
Question2: Does the Wifi EOC slave unit support telnet management? If so,what is the user name and password?
Answer: BAUDCOM wifi EOC slave can be managed by TELNET,
the management account information as below:
IP address: 192.168.1.1
user name: root
password: root626  
Note: The EOC slave device version information

Question3: Does the EOC SLAVE modem support SIP protocol for VOIP? Do you have an RJ11 port for telephone?
Answer: BAUDCOM EOC slave modem can transparently transmit the network data with SIP protocol.
We can not provide the EOC slave modem with RJ11 telephone port.
Question4: EOC Slave with wifi diplex is 42/54 Mhz?
Answer: Our EOC Slave with wifi diplex can be 42/54 Mhz. There are three options for customer choose: 30/47-42/54、65/87.
Application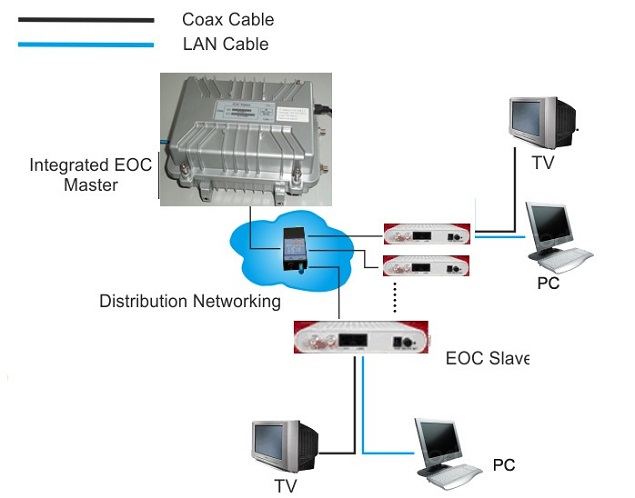 Order information
| Product Model | Descriptions | Inquiry |
| --- | --- | --- |
| BD-EOC-S4-W | ethernet over coax,slave side,4*10/100Mbps ethernet ports,wifi router | Request Price |