Fast Ethernet+Gigabit Ethernet GEPON ONU
Short Description:
Brief Views ONU (optical network unit) is a equipment used in PON (passive optical network) networki…

Payment Terms: Paypal,western union,L/C,D/A,D/P,T/T
---
Description
Specification
Application
Order information
Q&A
Product Tags
Reviews
Description
Brief Views
ONU (optical network unit) is a equipment used in PON (passive optical network) networking system to provide data service for end users.The main function of ONU is receiving the optical signals from downlink and convert it into ethernet signals then deliver to users.And receiving the ethernet signals from uplink signal of users equipment or networking and switch it into optical signals then deliver to upper networking through PON networking  system.
BD-ONU-112H is GEPON ONU designed mainly for FTTH (Fiber to home)/FTTO (Fiber to office)/FTTB (Fiber to Buiding) application. GEPON ONU BD-ONU-1XXH series support 1000Base-PX10/PX20 standard with 1:62 maximum optical splitting ratio and 10/20km distance, and provide one uplink GE PON port. BD-ONU-1XXH series ONU working with BD-OLT-8000 optical line terminal (OLT) cAN realize flexible network structure and maintenance and provide total FTTx solutions.
BD-ONU-112H adopts single fibre WDM technology with downlink wavelength 1490nm and uplink wavelength 1310nm .It only needs one-core fibre to transmit data service.
BD-ONU-112H provide one uplink GEPON port, 1* 10/100/1000BASE-T gigabit Ethernet port and 1*10/100BASE-T fast Ethernet port, which is suitable for the FTTX network system application.
Functional Feature
Support port-based rate limitation and bandwidth control;
In compliant with IEEE802.3ah Standard
Up to 20KM transmission Distance
Support data enscryption, group broadcasting, port Vlan separation ,RSTP,etc.
Support Dynamic Bandwidth Allocation (DBA)
Support ONU auto-discovery/Link detection/remote upgrade of software;
Support VLAN division and user separation to avoid broadcast storm;
Support various LLID configuration and single LLID configuration .Different user and different service could provide different QoS by means of different LLID channels.
Support power-off alarm function ,easy for link problem detection
Support broadcasting storm resistance function
Support port isolation between different ports
Support ACL and SNMP to configure data packet filter flexibly
Specialized design for system breakdown prevention to maintain stable system
Support software online upgrading
EMS network management based on SNMP ,convenient for maintenance
Physical Features
Dimension: 135mm(L) x 100mm(W) x 35mm (H)
Weight: 0.75KG
Working Temperature: -5℃~50℃;
Storage Temperature: -40℃~80℃;
Working Humidity: 10%~90%;
Power Supply: 220V AC,
Power Consumption :<5W
Application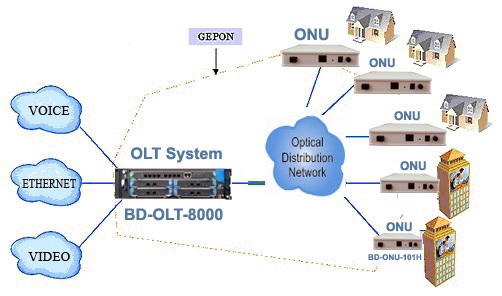 Order information
| Product Model | Descriptions | Inquiry |
| --- | --- | --- |
| BD-ONU-112H | GEPON ONU,one GE PON uplink port, 1* 10/100/1000BASE-T+1*10/100BASE-T ports, Power AC 220V or DC 48V | Request Price |