Outdoor type Four Output Optical Receiver
Short Description:
Applications The four-way output optical receiver is a field rain-proof receiver. It is suitable for…

Payment Terms: Paypal,western union,L/C,D/A,D/P,T/T
---
Description
Specification
Application
Order information
Q&A
Product Tags
Reviews
Description
Applications
The four-way output optical receiver is a field rain-proof receiver. It is suitable for users with concentrated buildings or communities or villages. It is suitable for multi-port high-level output distribution network. It is suitablefor areas where power is not convenient, single unit with multiple users. Can be used with ONU or EOC to achieve triple play.
The front stage of the four-way output optical receiver is amplified by a full GaAs MMIC, and the latter stage is a GaAs module amplifier. The adjustable attenuation and equalization are very convenient for construction. Users can also select more targeted high-quality modules according to actual needs. The optimized circuit design makes the machine achieve high performance index, which is the ideal model for building CATV network.
Performance Characteristics
n High quality waterproof aluminum casing, waterproof level up to IP65 standard.
n Beautiful and elegant double-shielded panel guarantees good EMC index.
n Advanced GaAs low noise amplifier circuit to increase device receiving sensitivity.
n Ten LED light power indications, optical power display is more accurate.
n The AGC control range is +2~-8dBm, and the output is basically unchanged. CTB and SCO are basically unchanged.
n AC-60v has independent power supply port.
n With slotted output plug-in, you can switch branches or assign outputs.
n Built-in button fuse box for quick and easy replacement.
n Use T-type + E anti-surge lightning protection circuit to effectively prevent power supply damage.
n International SNMP Network Management Protocol.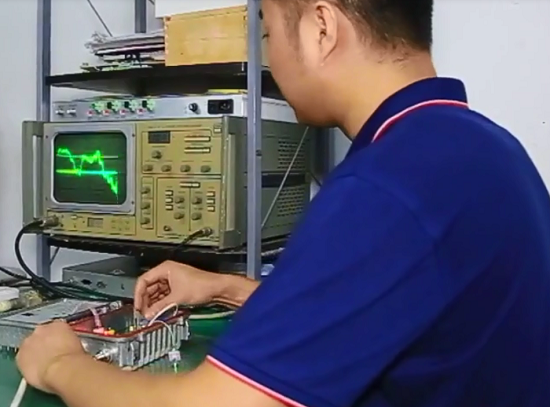 Technical Parameters
| | | | |
| --- | --- | --- | --- |
| Wavelength | 1100-1600nm | CN (Note 3) | ≥51dB |
| Optical input power | -8dBm~+2dBm | CTB (Note 3) | ≥65dB |
| AGC range | -8dBm~+2dBm | CSO (Note 3) | ≥62dB |
| Optical return loss | >45 dB | Power supply voltage | AC35V-AC90V&AC140V~265V |
| Optical connector | FC/APCS&SC/APC | Mainboard voltage | +24V&+8V |
| Bandwidth | 40~750&862&1006MHz | Working Temp. | -25℃ ~+55℃ |
| Flatness | ±0.75dB@ 40~750MHz   ±1dB@ 40~862MHz&1006MHz | Consumption | ≤36W |
| RF output return loss | ≥16dB@ 40~550MHz ≥14dB@550~750MHz&862MHz&1006MHz | Power supply way | 220V@Chinese outlet with 1m power cord   60V@G283 independent power supply port |
| Gain adjustable range | 0-20dB×2 | Net size | 270×210×100mm |
| Slope adjustable range | 0-18dB | Weight with inner box | 2.6kg(produce net weight (2.1kg) |
| Impedance | 75Ω | Carton gross weight | 23kg(10pcs) |
Note 1: 59 PAL-D analog TV channel signals are configured at 550MHz and 550MHz-862MHz transmits full-band digitally modulated signals every 2MHz at the specified link loss. The digitally modulated signal level is 10 dB lower than the analog modulated signal level and tested when the optical receiver input optical power is -1 dBm. The test results will be different according to the different amplification modules of the optical receiver configuration.
4.   Schematic Diagram