10G Fiber Converter (3R Repeater)
Short Description:
Description: The 10G Fiber Converter is protocol-independent with dual XFP or SFP+ ports, the 10G  f…

Payment Terms: Paypal,western union,L/C,D/A,D/P,T/T
---
Description
Specification
Application
Order information
Q&A
Product Tags
Reviews
Description
Description:
The 10G Fiber Converter is protocol-independent with dual XFP or SFP+ ports, the 10G  fiber converter can provide conversion between different wavelengths or single-mode and multi-mode fiber, single-mode to single-mode fiber or multi-mode to single-strand single-mode fiber.
The device can be used as 10G fiber mode mode or fiber repeater to extend the 10G network distance
The 10G device support SDH/SONET STM-64/OC-192,10G fiber channel,10G Ethernet etc and can be applied in Telecommunication room, R&D laboratory, Data center or even 1310nm /1550nm/CWDM/DWDM Optical Wavelength Conversion.
The 10G fiber converter can be used as standalone device with external power or used as plug in card used in BD10Chasiss.
Application:
10Gbase-LAN,10Gbase-WAN
Features:
 Support 2U Rack(16 Slots) and independent use
 Support network management (Web SNMP, Console)
 Support in-band management
 Support ITUT prescribed DWDM/CWDM wavelength
 Optical signal regeneration: 3R ( Re-amplify, Reshape, and Retime the signal ) ensures that there is a quality link at 10 Gigabit speeds.
 Support Jumbo Frame
 Transparent Transpor and very low delay
 Support DMI function for SFP+/XFP fiber module
 Support Loopback test function
 Support PRBS Generator and checker
 Support hot plugging
 Full State Led display
 Easy installation
Technical Information:

Performance Data
Technical Indexes
 Equipment function
     3R Repeater
 Transmission Speed
     10Gb/s(9.95Gb/s-11.35Gb/s)
 Protocols
     10Gbase-R,10Gbase-LRM
 Access Type
      IEEE802.3ae 10G LAN/ 10G WAN
Interface Type
      Type A:   SFP+ To/From SFP+Type B:  SFP+ To/From XFP

Type C:  XFP To/From XFP

Transmission Distance
      Up to SFP+ module(Max 40Km)Up to XFP module (Max 80Km)
power requirement
      Rack-mountable : AC 85 ~ 220V OR DC -48VStandalone: AC 220V OR -48V

Power consumption: ≤4W

Work Environment
      Operating Temp: 0~ 50 ℃Storage Temp: -10~ 70 ℃

Humidity: 5%~90% (non-condensing)

 Dimension
      Card : 11.5mm (W)× 78mm (D)Standalone :156mm (W)×128mm(D)×32mm(H)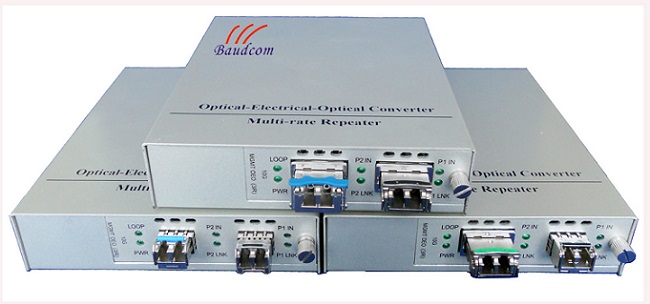 Question: Can I input 2Gbps signal into the 10G optical fiber repeater?
Answer: The 10G fiber repeater can only support 9.95Gb/s-11.35Gb/s.If your rate is 2Gbps,you can choose our 2.5G fiber repeater.
Order information
| Product Model | Descriptions | Inquiry |
| --- | --- | --- |
| BD-OEO-10G-A | 10G fber converter,3R repeater,type A:SFP+ to SFP+ | Request Price |
| BD-OEO-10G-B | 10G fiber converter,3R repeater,type B: SFP+ to XFP | Request Price |
| BD-OEO-10G-C | 10G fiber converter,3R repeater,type C: XFP to XFP | Request Price |