1GE+1FE+WIFI+POTs+CATV GPON ONU
Short Description:
Overview: BD-ONU-812RWT-G GPON onu is mainly designed for FTTH,FTTO application. This onu support 10…

Payment Terms: Paypal,western union,L/C,D/A,D/P,T/T
---
Description
Specification
Application
Order information
Q&A
Product Tags
Reviews
Description
Overview:
BD-ONU-812RWT-G GPON onu is mainly designed for FTTH,FTTO application. This onu support 1000Base-PX20+ standard with 1:64 maximum optical splitting ratio and 20km distance, and provide 1uplink GPON port.
The GPON onu work together with OLT could realize flexible network structure and maintenance and provide total FTTx solutions.
The GE wifi ONU has 1 PON port ,1* 10/100BASE-T port, 1* 10/100/1000BASE-T port,1*POTs,1*CATV port and support Wi-Fi.
Function
Data Service Functions
Full speed non-blocking switching.
2K MAC address table.
64 full range VLAN ID.
Support QinQ VLAN, 1:1 VLAN, VLAN reusing, VLAN trunk, etc.
Integrated port monitoring, port mirroring, port rate limiting, port SLA, etc.
Support auto polarity detection of Ethernet ports (AUTO MDIX).
Integrated IEEE802.1p QoS with four level priority queues.
Support IPv4 IGMP snooping and IPv6 MLD snooping.
Support bridge, router and bridge/router mixed mode.
POTS Service Functions
Call protocol: SIP(IMS compatible), seamless compatible with all popular call agent.
Integrate heartbeat function and support active/standby call agent.
Voice coding: ITU-T G.711/G.723.1(5.3K/6.3Kbit/s)/G.729, auto-negotiate with call agent.
Echo cancellation exceeding ITU-T G.165/G.168-2002, up to 128ms tail length.
Support high/low speed fax, bypass fax, and T38 fax.
Support high speed MODEM(56Kbps) dial access.
Support RFC2833 and redundant RFC2833, difference rings, MD5 authentication, call forward, call waiting, hot-line call, alarm clock, and all kinds of value-added voice service.
Multi-party conferencing.
Line testing according to GR-909.
IP address assignment: dynamic PPPoE/DHCP Client and static IP.
Support WEB, CLI,IVR,TR069.
Call loss less than 0.01%.
WIFI Service Functions
Integrated 802.11b/g/n, 300Mbps, 2T2R.
Support 128 connections.
Support WEP and WPA/WPA2 security protocols.
CATV Service Functions
RF frequency: 45~875MHz.
Turn on/off RF output remotely.
RF level can be showed on PC Web real time.
AGC Dynamic Range (dBm) :-6~+2
RF Output Level(dBuv):80
Specification
Specification
Technical items
Description
Main Chipset
 Realtek
CPU
 600MHZ
Memory
 64M bytes DDR3
Flash
 16M SPI
PON Port Type
 BOSA
PON interface
 1 GPON interface, SC single-fiber/double-fiber, Upstream 1.25Gbps,Downstream 2.5Gbps
Wavelength
 GPON Tx 1310nm, GPON Rx 1490nm
Sensitivity
 <-27dBm(PX20+)
Overload
 >-8dBm(PX20+)
Optical interface
 SC/APC connector
LAN interface
1 x 10/100/1000Mbps+1 x 10/100Mbps auto adaptive Ethernet interfaces, RJ45 connectors
CATV
1 CATV F Connector
Downstream POTS interface
 1 FXS, RJ11 connectors
Indicators
9 indicators, for status of power supply, PON, LAN, POTS and CATV .
WLAN
 Compliant with IEEE802.11b/g/n, 300Mbps,
2T2R two internal antenna
WLAN throughput
 100Mbps @ 40users, 1518bytes, no-encryption
107Mbps @ 40users, 512bytes, encryption
DC power supply
 +12V,1.5A, external AC-DC power adaptor
Power consumption
 ≤10W
Operating condition
 Operating temp: -5~+55℃
Operating humidity:10~90%(non-condensed)
Storing condition
 Storing temp: -30~+60℃
Storing humidity:10~90%(non-condensed)
Dimension
 185mm*33mm*122mm(W*H*D)
Net weight
 0.3Kg
Application
Typical Solution:FTTH,FTTO,PON+EOC
Typical Business:INTERNET, IPTV, VOD, IP Camera, WIFI
Network Construction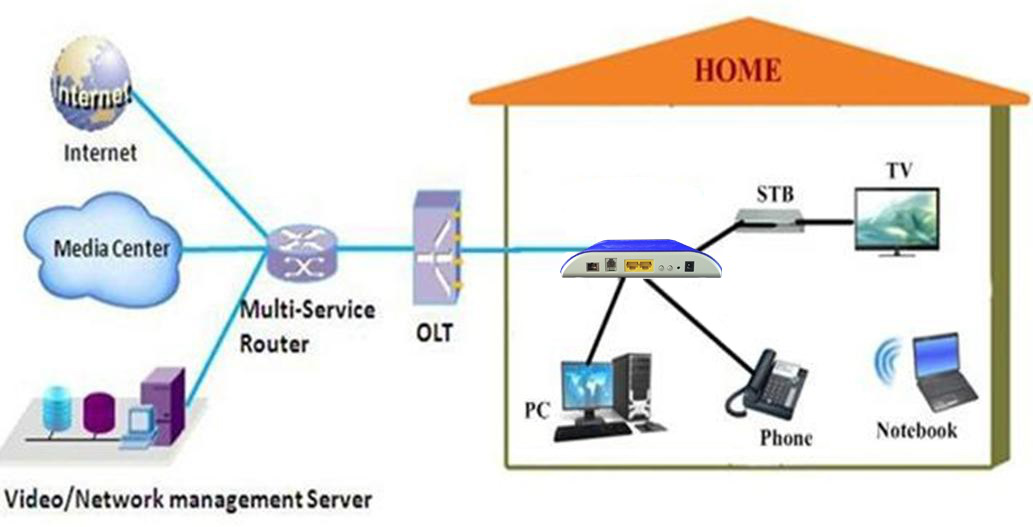 Order information
| Product Model | Descriptions | Inquiry |
| --- | --- | --- |
| BD-ONU-812RWT-G | 1*10/100M and 1*10/100/1000M Ethernet interface,CATV, 1POTS,1 GPON interface, support Wi-Fi function, external power supply adapter | Request Price |