one channel 3G SDI video fiber converter with loopout
Short Description:
Description 1ch 3G-SDI with loopout Fiber Video  Converter, 20KM,Tx/Rx. System Design Fiber Optic Vi…

Payment Terms: Paypal,western union,L/C,D/A,D/P,T/T
---
Description
Specification
Application
Order information
Q&A
Product Tags
Reviews
Description
Description
1ch 3G-SDI with loopout Fiber Video  Converter, 20KM,Tx/Rx.
System Design
Fiber Optic Video Transmitter & Receiver
SDI series can transmission 1-Channel
3G-SDI video over 1 single core fiber.
Single-Mode
3G-SDI unit is designed to support LC /PC Optical connector
We will offer free patch cord + adaptor for your request for SC/PC or ST/PC or FC/PC optical connector.
The Transmission distance Range according to the Optical Budget.
Manufacturer's default standard is single mode 20Km .
Features
1 Channel Video of3G-SDIcan be transmitted via 1 single fiber
The Max rate of work is 3.2Gb/s
Support SMPTE 292M (2.9Gb/s) clock recovery
Support standard of 1.485Gbps/M(HD-SDI/ SD-SDI),SMPTE 425M 3Gb/s Mapping(3G-SDI),SMPTE 424M 3Gb/s serial interface(3G-SDI)
Out wavelength range is 1310nm、1550nm and 16 other kind of CWDM wavelength ( comply with ITU-T G.694.2)
Automatic cable equalization ,used for all rate below 3.2 Gb/s(Belden 1694A)
LED Status Indicationto monitor the working conditions
Video transmission system can support many application branches structure
The fiber portSupport SFP transceiver hot-plugged
The SDI video format support:
625/25 PAL
525/29.97 NTSC
525/23.98 NTSC
720p50、720p59.94
1080P 23.98/24/30/50/60
1080i 23/24/30/50/59.94
Remark:
The Optical Power Budget fit Multi-mode(62.5/125m),Single-Mode(9/125 m).
When using 50/125 m multimode fiber, subtract 3 dB from the optical power budget.
Optical transmission distance is limited to optical loss of the fiber and any additional loss introduced by connectors, splices and patch panels.
Maximum transmission distance is also limited by fiber bandwidth.
Power adapter for stand-alone units is manufactured by third party .Power adapter included US, European, UK or Australian power plug.
Please feel free to contact factory for any special requirement and customization
Specifications
Video
Number of channels : 1 channel with loopout
Input/out put Connector : BNC 75Ω
Input/output voltage: 1.0 Volt p-p
Video Bits Rate: Max 3.2Gb/s
Video SDI Standards: 270Mbps(SD-SDI)
1.485Gbps/M(HD-SDI)
SMPTE425M3Gb/s Mapping(3G-SDI)
SMPTE424M 3Gb/s serial interface(3G-SDI)
Fiber Optic
Number of Optical port : 1 SFP
Connector : Simplex LC
Transmission Distance:Single-mode 20Km
Single-mode:1310/1550nm,1490nm (Option)
Connectors
Video : BNC 75Ω
Fiber Optical : Simplex LC
Stand-alone power: DC JACK
Rack power: AC line cord
Electrical & Mechanical
Power adaptor : AC 100-240V to DC 5V 2A
Power consumption : <3W
Environmental
Operating Temperature : – 5C~+75 C
Storage Temperature : – 5 C~+85 C
Relative Humidity : 0%~95% (non-condensing)
MTBF : >100,000 hours
Remark: To meet the needs of our customers and help them to realize their projects, we also can manufacture the products according to customers' requirements.
Application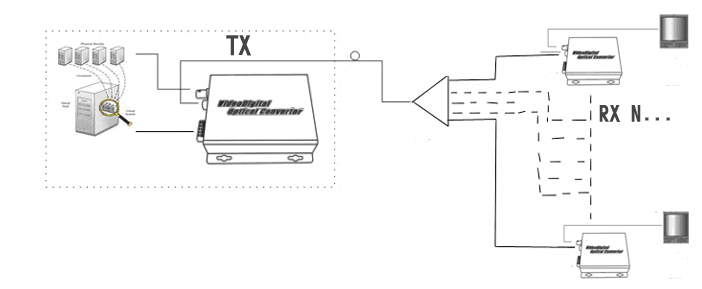 Order information
| Product Model | Descriptions | Inquiry |
| --- | --- | --- |
| BD-1V1D1A-20TR-SDI | 1ch 3G-SDI with loopout Fiber Video Converter, 20KM,Tx/Rx | Request Price |
| BD-1V1D1A-20TR-SDI | 1ch 3G-SDI with loopout Fiber Video Converter, 20KM,Tx/Rx | Request Price |