16 E1 over Ethernet TDM over IP converter
Short Description:
Product Overview: As a cost effective solution for the traditional telecom services migrate to the I…

Payment Terms: Paypal,western union,L/C,D/A,D/P,T/T
---
Description
Specification
Application
Order information
Q&A
Product Tags
Reviews
Description
Product Overview:
As a cost effective solution for the traditional telecom services migrate to the IP packet networking technology, BD-16E1-IP adopts the innovative TDM over IP technology, with IP circuit emulation that supports transportation of 16 E1 over FE port. The uplink ports and user data ports are IEEE 802.3 compliant, 10/100 auto-sensed Ethernet ports.
State-of-the-art design provides the highest availability with the accurate timing signal and data bit stream reconstruction. Predefined system parameter profiles that according to different application requirement; ultimately simplify the installation process and saving the maintenance cost.
The 16E1 TDM over IP converter provide 2 power supply, 16 E1,2FE uplink 2FE downlink and one optical FE SFP slot.
Telecom and Enterprise users can save a lot of access and equipment costs and generates new revenue by offering different types of service over existing Ethernet networks. It is also suitable for connecting to the wireless equipment to achieve fast deployment of E1 services. One particular application is to build E1 links with low cost Wireless LAN bridges, replacing much more costly microwave radios.
Features
SupportIETF RFC4553 SAToP protocol, Ethernet encapsulation support IP/UDP.
Provide 4 FE electrical ports and 1 FE optical port, 2 uplink ports, 2 user data ports or monitoring ports, optical port can be used for uplink or user data.
User-friendly Web server supported for easy setup and maintenance
Support SNMP V1/V2 network management
E1 clock supports 3 mode: local clock, adaptive and loopback
E1 service support lossy and lossless protection
E1 support local and remote loops
Ethernet built-in layer 2 switch, support VLAN(port based, 802.1Q based and QinQ based), QoS(port based、8021.1P based、MAC based and TOS based).
Ethernet supportIEEE 802.3x, RSTP (802.1w), LLDP, CDP, Ethernet ring protection, OAM and MAC address automatic learning
Ethernet packet size up to 9720byte
Support point to point (working pair,one at each end of the network) and point to multipoint application
Local Ethernet port throughput limiting
Software and hardware online upgrade
Power supply redundancy
120Ωbalanced E1/T1 port, RJ-45 connector, support 75Ω unbalanced port through outside converting cable.
Support cascade concatenate for more than 16 E1 ports
Technical Specifications
Item
Description
Model
BD-16E1-IP
4 Ethernet electrical ports and 1 ethernet optical port(SFP Slot), 16 E1s
Interfaces
IP ports
4 FE electrical ports and 1 FE optical port Comply with IEEE 802.3, 802.1Q, 802.1P, 802.3x
Speed and half/full duplex auto-negotiation or manual
Auto MDI-X,RJ45 female connector
E1 Ports
16 E1 Ports Supported

Comply with ITU-T G.703 G.742 standard

Impedance: 120ohm(balanced,RJ45 connector)

or 75ohm(unbalanced,BNC connector)

Rate: 2.048Mbps

Code: High Density Line Code Bipolar-3 (HDB3).

Optical Port
(SFP module is not included in the normal device)
Fiber type: Single fiber or dual fiber
Wavelength: 850nm/1310nm/1550nmOptical connector: LC or SC

Transmission distance: 2km/20km/80km/100km

Rate: 100Mbps

Code: non-return-to-zero (NRZ)

NM port
Same as IP ports
Web server and SNMP management supported
Indicator
LED indicator
Power status indicator
E1 activity status indicator
Ethernet LAN indicator
Optical connection indicator
Power
Supply
dual power supply
DC  -48V~-72V
AC 100~240V  60 Hz.
Consumption
≤35W
Working Environment
Temperature
0~ 50°C
Relative Humidity
≤95% (non-condensing)
Storage temperature
0-70 ° C
Dimension
W x H x D (mm):
1U Rack mount: 440 x 44 x 135 (mm)
Question1: Can the 16E1 TDM over IP device web management support different browsers?
Answer: Yes, the devices can be monitored and configured in most browers, for example, IE, Google Chrome, Firefox, etc.
Question2: Can the 16E1 TDMoIP converter support CESOP protocol?
Answer: The TDM over IP can not support CESOP protocol. Our BD-FE1-IP can support the CESOP protocol.
Question3: Thanks for your soon feedback and professional support. The only problem I see is, I don't need 220V AC. I would prefer 110/120V AC. Plus the option for -48V DC.
Answer: Our 16 E1 over Ethernet Multiplexer power is with a wide range, which can support AC 220V and 110/120V. The 16E1 TDMoIP device also can support double AC and DC 48V.
Question4: Can Baudcom provide 1*RJ45 to 2*BNC male cable 50cm?
Answer: Yes, Baudcom can provide the cable, but need to pay attention to line sequence.
Question5: Can the 16 E1 TDMoIP converter support optical uplink?
Answer: Yes, the E1 tdm over IP converter can support both 10/100M-TX electrical and 10/100M-FX optical uplinks.
Question6: Does the 16E1 ethernet converter support VLAN?
Answer: Yes, the E1 tdm over ethernet converter can support VLAN function. The user can configure the VLAN and Q-in-Q VLAN via web management.
Application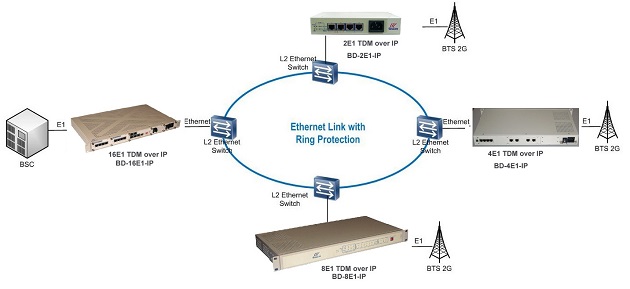 Order information
| Product Model | Descriptions | Inquiry |
| --- | --- | --- |
| BD-16E1-IP/120 | TDM over IP multiplexer,16ports E1 or T1, 2*10/100Base-T ethernet uplink,2*10/100Base-T ethernet for local data,one optical Ethernet(SFP slot), E1 120ohms, Dual AC 220V and DC -48V power supply. Web server & SNMP. | Request Price |
| BD-16E1-IP/75 | TDM over IP multiplexer,16ports E1 or T1, 2*10/100Base-T ethernet uplink,2*10/100Base-T ethernet for local data,one optical Ethernet(SFP slot), E1 75ohms, Dual AC 220V and DC -48V power supply. Web server & SNMP. | Request Price |