4FE1 TDM over IP
Short Description:
Overview:    BD-4FE1-IP adopts the innovative TDM over IP technology, it transports the legacy E1 da…

Payment Terms: Paypal,western union,L/C,D/A,D/P,T/T
---
Description
Specification
Application
Order information
Q&A
Product Tags
Reviews
Description
Overview:
   BD-4FE1-IP adopts the innovative TDM over IP technology, it transports the legacy E1 data through the existing Ethernet or IP network.The state-of-the-art design provides the highest availability with the accurate timing signal and data bit stream reconstruction. Predefined system parameter profiles that according to different application requirement; ultimately simplify the installation process and saving the maintenance cost.
The E1 tdm over IP converter have the performance of high  transmission efficiency, low transmission delay, high precision clock recovery. Support 1E1 interface and IP internet transmission of 4 100MEthernet interface .
    BD-4FE1-IP is the new generation of the TDM over IP equipment with IP circuit emulation that supports transportation of four E1 over Ethernet or IP network. The uplink ports and user data ports are IEEE 802.3 compliant, 10/100M BaseT auto-sensed Ethernet port.
    The framed E1 tdm over ip is also suitable for connecting to the wireless equipment to achieve fast deployment of E1 services. One particular application is to build E1  links with low cost Wireless LAN bridges, replacing much more costly microwave radios.
Features
Ø  4 E1 interface, E1 interface impedance support 75Ω and 120Ω
Ø  Support L2TPv3/IPv4, UDP/IPv4, Metro Ethernet (MEF-8) and MPLS (MFA-8) and other agreements
Ø  E1 interface complies with G.703, G.704 standard
Ø  Each E1 support jitter buffer depth of 1-255msec
Ø  Configure via CLI/Web
Ø  Support VLAN tagging and QinQ function
Ø  Support Qos setting
Ø  Provide statistics for Ethernet+E1
Ø  Support software and firmware upgrade
Technical Specifications
Item
Description
Model
BD-4FE1-IP
4E1, 3FE electrical ports and 1 FE optical port
Interfaces
Uplink
3 FE electrical ports and 1 FE optical port
Comply with IEEE 802.3, 802.1Q, 802.1P, 802.3x
Speed and duplex auto-negotiation or manual
E1 Port
1 E1 Supported

Comply with G.703 G.704

Impedance: E1-120Ω or 75Ω

Power
Supply
-48V DC or 220V (110V) AC power supply
Consumption
≤10W
Working Environment
Temperature
0~ 50°C
Relative Humidity
≤90% (non-condensing)
WEB Management: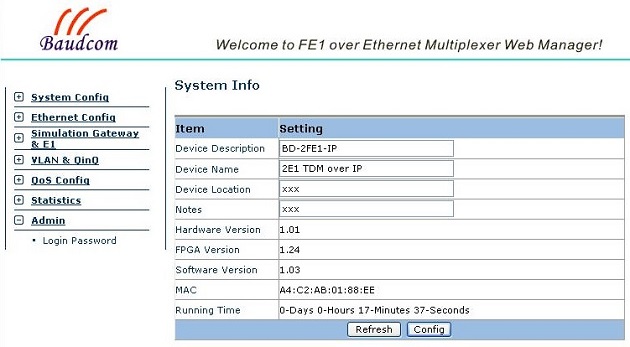 Question: Can the E1 tdm over ip support RSTP (rapid spanning tree) feature?
Answer: Yes, the device can support.
Question: I need install the 4E1 TDM IP device on 19inch rack mount, but the device is desk type, can it be installed in my rack mount chassis?
Answer: We can provide a pair long "ear" for the device, the device can be installed in 19inch rack mount.
Application

E1 over ethernet Application1

E1 over ethernet Application2 
Order information
| Product Model | Descriptions | Inquiry |
| --- | --- | --- |
| BD-FE1-IP | 4E1 over Fast Ethernet converter,framed E1,3FE electrical ports and 1 FE optical port(SFP slot),power AC 220V | Request Price |
| BD-4FE1-IP/DC | 4E1 over Fast Ethernet converter,framed E1,3FE electrical ports and 1 FE optical port(SFP slot),power DC 48V | Request Price |