2Channel RS232/RS422/RS485 Serial to Ethernet converter
Short Description:
Overview The Baudcom  sonsole Server is the best choice for simple serial to Ethernet connectivity a…

Payment Terms: Paypal,western union,L/C,D/A,D/P,T/T
---
Description
Specification
Application
Order information
Q&A
Product Tags
Reviews
Description
Overview
The Baudcom  sonsole Server is the best choice for simple serial to Ethernet connectivity applications. Delivering a cost effective solution in a compact size, the serial server offers flexibility making it ideal for applications that require an authentic serial connection across an Ethernet network.
The Serial to ethernet converter can implement the conversion between 2channel RS232/RS485/RS422 serial ports and 10/100M Ethernet ports, and two models are available: complete machine and embedded module. It can be extensively used for data collection of supervision and control system for power in machine room and base station of operators, automatic supervision and control for plant, automation of medical treatment and medicine, networking control of electromechanical instrument, networking control of attendance checking, networking control of security/access control and other occasions.
Features
1.    It has a compact structure, adopting high-performance processor and high-capacity memory;
2.    DeviceManager software for centralized management and control;
3.    WEB browser for remote setup of the equipment;
4.    It can support three communication modes: virtual serial port application, controls developed by our Company and Socket;
5.    It can support 2channel RS232 or RS485 or RS422
6.    The serial port1 is general serial port (TxD/RxD/GND),the serial port2 is the full signal serial port(TxD/RxD/RTS/CTS/DTR/DSR/DCD/GND)
7.    Rating of serial port reach 50BPS ~ 460800BPS;
8.    Isupport three operating modes: TCP Server, TCP Client and UDP; the working port, destination IP and port can be set;
9.    Ethernet supports 10M/100M, full-duplex / half-duplex and adaptive modes;
10. It can support multiple protocols: ETHERNET, ARP, IP, ICMP, IGMP, UDP, TCP, HTTP etc.
Application:
     Connect serial devices to server based applications over an IP network
    Manage remote serial console ports over an IP network
    Virtual modem capability for modem-based applications
Ethernet Interface
10/100Mbps rate
full/duplex auto-negotiation
Protocol: Support IEEE 802.3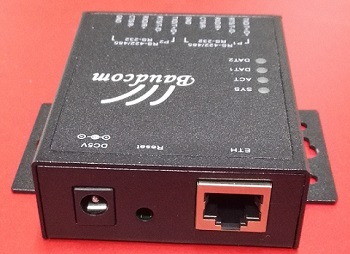 RJ45 connector
Serial interface
Seletable RS232/RS422/RS485
Software and hardware flow control
RJ45 connector
TX and RX activity indicators
Power supply                        
working voltage range wide, good        
anti-disturb and Isolation, work stable     
AC220V,range AC165V~AC240V or AC110V(optional)
Power Consumption:     <=5 Watts
Order information
| Product Model | Descriptions | Inquiry |
| --- | --- | --- |
| BD-2RS232-ETH | Serial to Ethernet/IP converter,2channel RS232 to Ethernet/IP, power AC220V | Request Price |
| BD-2RS485-ETH | Serial to Ethernet/IP converter, 2channel serial RS485 to Ethernet/IP, power AC220V | Request Price |
| BD-2RS422-ETH | Serial to Ethernet/IP converter,2channel RS422 to Ethernet/IP, power AC220V | Request Price |