48ports IP DSLAM Switch
Short Description:
Description BD-DSLAM-5048 is a special pizza box designed for outdoor application with the physical …

Payment Terms: Paypal,western union,L/C,D/A,D/P,T/T
---
Description
Specification
Application
Order information
Q&A
Product Tags
Reviews
Description
Description
BD-DSLAM-5048 is a special pizza box designed for outdoor application with the physical depth about 320mm and the operating temperature up to 60°C . It terminates all the ATM circuits and converts traffic directly to deliver the most popular broadband IP services.
BD-DSLAM-5048 offers better bandwidth utilization, ease of use, as well as the low-cost advantage and provides the least initial investment solution for internet service providers who want to start providing broadband service in a low subscriber density location.
BD-DSLAM-5048 is compliant with ITU G.992.5, G.992.3,G.992.1, and backwards compatible with early version of ADSL.Its maximum downstream/upstream rate is up to 24/1.2Mbps and maximum reach distance is over 6Km. It is most suitable to provide high speed Internet access on existing copper twisted pair telephone lines.
With the highly compact (1U height) and temperature-hardened design, simple installation and easy adaptation to local POTS/ISDN splitter requirements,BD-DSLAM-48 is an ideal solution for Triple-play requirements deployed in indoor and outdoor enclosures.
ADSL2+ Interfaces:
● 48 ADSL/ADSL2/ADSL2+ Ports with splitter built
● Supports ANSI T1.413 Issue 2, ITU G.992.5, G.992.3,G.992.1 (G.dmt), ITU-T G.992.2 (G.lite)
● Provides optimal rate/reach performance
● Rates up to 24.0 Mbps
● Distance up to 6.0 Km
● Multimode (automatic modulation detection)
● Supports packets transmit and receive statistics report
● Bandwidth Management control on each port at 32kbps interval
● Extended power management capabilities to optimize power consumption for each application
Management
● Web-based management
● SNMP-based GUI EMS
● Local RS-232 CLI
● Remote in-band SNMP/TELNET management
● Firmware upgradeable via FTP or TFTP
Protocol Support
● IGMP snooping/ GMRP/ GVRP/ LACP
● SNMP/UDP/IP/MAC/Ethernet
System Features:
● 2 10/100/1000 BASE-TX ports, one for uplink and another one for cascade
● Support up to 8 units to be cascaded
● SNMP Management Agent and MIB II
● TFTP
● BOOTP Client, Boot Server
● IP packet size 64 byte to 1522 byte
● PPPoE Intermediate Agent
● DHCP Relay Agent
● 8 VCs per ADSL port
● Support multiple PVC QoS configuration
● 128 MAC address per ADSL port
● 48*128 MAC address
Bridging
1. Ethernet Bridging – Broadcast, Flooding/ Dropping.
2. VLAN bridging
A. 512 VLAN support
B. Static VLAN
C. VLAN Stacking
D. VLAN Trunking
Multicast
1. Up to 256 multicast addresses
2. IGMP v1, v2, v3
3. Multicast VLAN mapping
A. Independent VLAN multicast (IVM)
B. Shared VLAN Multicast (SVM)
4. handle PPPoE Encapsulated IGMP
Security
1. Throttling Control
2. Sticky Bridge Ports
3. MAC Address Access Control List
4. IP Address Access Control List
Inter-Working
1. IPoA to IPoE Tunneling
2. PPPoA to PPPoE inter-working
QoS
1. Input Rate Limiting (IRL) on a per-AAL5 Interface
2. Output Rate Limiting (ORL) on a per ATM-port and Ethernet basis
3. Rate Limiting
Hardware Configuration
● 2 RJ45 for Uplink and Cascade
● 2 TELCO-50 connectors for 48-port ADSL/ADSL2/ADSL2+
● 2 TELCO-50 connectors for phone line
● 1 RJ45 interface for Local Management
Input Power
● AC Power Model: 90VAC ~ 260 VAC, 50-60 Hz
● DC Power Model: -40VDC ~ -60 VDC
● Power Consumption: 90 watts
Operation Parameters
● Operating Temperature: -10 to 60°C
● Storage Temperature: -30~+85°C
● Operating Humidity: 5% to 95% non-condensing
● Operating Altitude: -200ft.to +15,000ft
● Reliability: MTBF 140,000 hrs minimum
Physical Specification
● Dimensions: 440mm(W) x 320mm(D)in x 44.5mm(H)
● Weight: 6.0Kg
Question: Can the 48port IP DSLAM support Voip?
Answer: The IP DSLAM can not support Voip service.
Application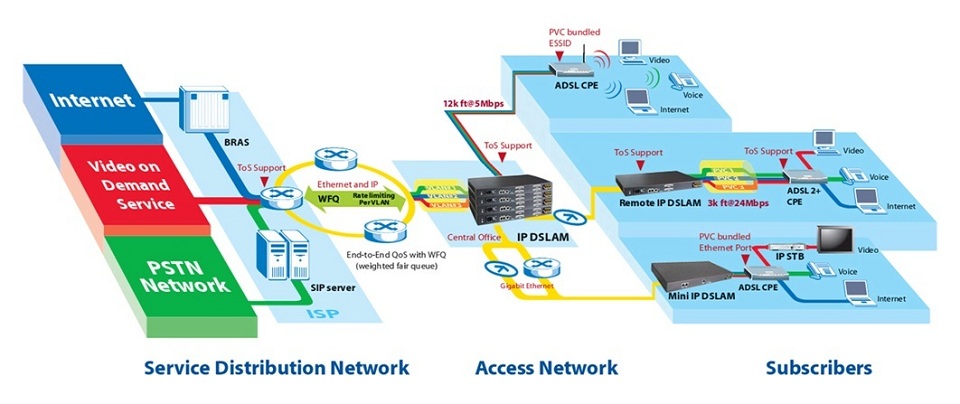 Order information
| Product Model | Descriptions | Inquiry |
| --- | --- | --- |
| BD-DSLAM-5048/AC | 48ports IP DSLAM,48 ADSL/ADSL2/ADSL2+ Ports,splitter built,AC power 220V | Request Price |
| BD-DSLAM-5024/AC | 24ports IP DSLAM,splitter built-in,AC power 220V | Request Price |