Cable Tension Clamp for FTTH drop cable
Short Description:
DESCRIPTION Model: BD-S-Clamp  https://www.baudcom.com.cn/fa/cable-tension-clamp-for-ftth-drop-cable…

Payment Terms: Paypal,western union,L/C,D/A,D/P,T/T
---
Description
Specification
Application
Order information
Q&A
Product Tags
Reviews
Description
DESCRIPTION
Model: BD-S-Clamp  https://www.baudcom.com.cn/fa/cable-tension-clamp-for-ftth-drop-cable.html
FTTH cable clamp is tension clamp for FTTH drop cable. The drop wire clamp is to connect a triplex overhead entrance cable to a devices or buildings.Widely used both indoor installation and outdoor installation.Provided with a serrated shim to increase hold on drop wire. Used to support  one and two pair  telephone drop wire at span clamps,drive hooks, and various drop attachments.  The s hook drop wire clamps can withstand the rigors of all environmental conditions in the telecommunications outside plant. The placement of slots and a hole in the clamp's inner wedges allow for proper cable slack adjustment, tensioning and assistance with re-entry.
The drop wire clamp is composed of a mandrel shaped body and an opened bail that can be locked into the clamp body. It is made out of UV resistant nylon and steel.
BAUDCOM offer this tension clamp with appropriate fish type, S-type and other FTTH clamps.
All the assemblies passed the tensile tests, operation experience with temperatures ranging from – 60 °C up to +60 °C test, temperature-cycling test.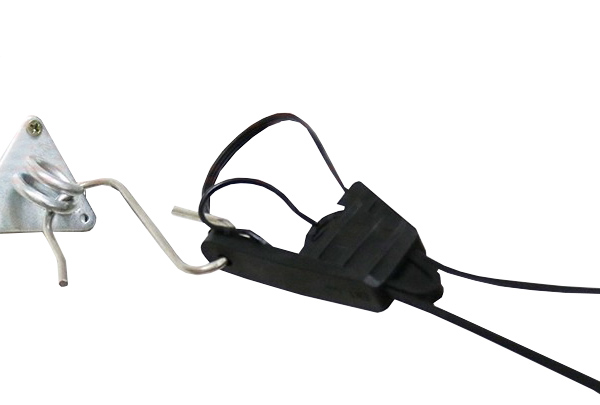 FEATURES
Unique hook and wedge lock design.
Easy cable slack adjustment to apply proper tension.
Can be re-entered and reused.
Weather and corrosion resistant Nylon PA66 body.
SS201 hook for maximum corrosion resistance.
No special tools required for installation.
No loose parts – wedge is tethered to clamp body.
ORDERING INFORMATION
Code
Outer material
Max Pull Force(kNS) 
Length 

S hook

PA66 Nylon and ss 201 

200kNS

150mm

Weight
Thickness of steel hook
Thickness of nylon

60g

4mm

7.2mm