1000M standalone Managed Media Converter
Short Description:
Overview: 10/100M,10/100/1000M IEEE802.3ah OAM manageable ethernet fiber media converter can supervi…

Payment Terms: Paypal,western union,L/C,D/A,D/P,T/T
---
Description
Specification
Application
Order information
Q&A
Product Tags
Reviews
Description
Overview:
10/100M,10/100/1000M IEEE802.3ah OAM manageable ethernet fiber media converter can supervise the real time situation of fiber media converter in remote side and set the parameter. With this system, the response speed of the operator is quickened, the daily maintenance and network expenditure of the operators are reduced, and the serving quality of them is enhanced.
Key Features:
●   Built-in IP-based Web Interface.
●   Supporting remote and local management.
●   Supporling IEEEE 802.3X Frame Flow Control for Full-Duplex mode.
●   Store and Forward mechanism.
●   Manual IP address setting/DHCP client for IP address assignment.
●   SNMP v1 / v2c monitor / private Enterprise MIB.
●   Event trap and SNMP trap support.
●   Speed duplex mode configuration / Flow Control setting / bandwidth Control on TP / Fiber port.
●   Supports Port Status / Ethernet Statistics on both TP and Fiber intertace.
●   Supports Maximum frame size to 16K bytes.
●   Loop detection / Broadcast / Multicast / Unicast storm control.
●   Management VLAN / 16 IEEE 802.1Q VLAN groups / Q-in-Q VLAN.
●   802.1p Tag Priority / IP address priority / IP DSCP option in.
●   Quality of Service Mode and Strict Priority / Weighted Round Robin (WRR) QoS policies.
●   TS-1000 OAM / IEEE 802.3ah OAM / Loop Back Test.
●   16 TCP / UDP Filter groups.
●   Password setting, IP setting and devices description setting through Planet Smart discovery utility.
●   Firmware upgrade via remote Web interface.
●   LED indicators for easy network diagnosing.
●   Reset Button at the front panel for the factory default reset.
●   Choice of fiber-connector from SC, LC, WDM, multi-mode / single-mode fiber /1000Base-SX / LX mini GBIC module.
Technical Parameters:
·                                 Ethernet Interface:
⑴ Meet standards: IEEE802.3,IEEE802.3u, IEEE802.3z, IEEE802.3ab, IEEE802.3x
⑵ Data rate: 10Mbps, 100Mbps, 1000M half/full duplex auto-sensing
⑶ Connector: RJ-45
⑷ UTP CAT5 or CAT5E connecting with RJ-45, transmission distance at 100m.
·                                 
Optical port:
⑴ Connector: ST, SC, FC.LC
⑵ Operating wavelength: 850nm, 1310nm at Multi-mode; 1310nm, 1550nm at single mode.
⑶ Optical fibers: Multi-mode: 50/125,62.5/125,100/140um;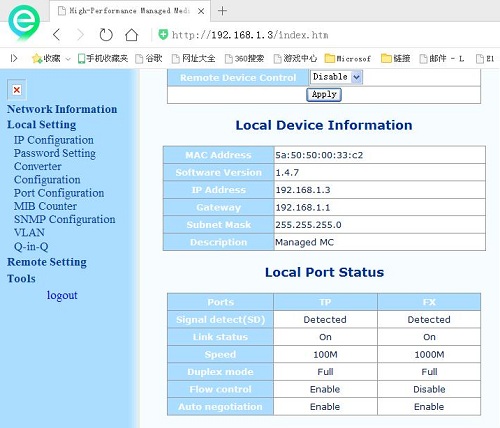 Single-mode: 8.3/125,8.7/125,9/125,10/125um
·
 (4)Transmission distance: Dual fiber: up to 100km
Single fiber: up to 80km
Power supply                        
85VAC~265VAC or -40VDC~-57VDC     Power consumption: ≤5W
environment condition                   
Operating temperature:  0C~+50 C
Storage temperature:   -20 C~+70 C
Relative temperature:95% (uncondensed)
Dimension                  
156mm(W)*128mm(D)*32mm(H)
Question: Does the managed media converter offers inband management?
Answer: Yes, the fiber gigabit media converter offer inband management. The media converter will be managed by WEB based management easily.
Question: Can we carry the management traffic within VLAN??
Answer: Yes.
Order information
| Product Model | Descriptions | Inquiry |
| --- | --- | --- |
| BD-1000M-OAM/AC | gigabit media converter,OAM managed,power AC 220V | Request Price |
| BD-1000M-OAM/DC | gigabit media converter,OAM managed,power DC48V | Request Price |