4Ports 2-wire Fast Ethernet SHDSL Router Modem
Short Description:
The 2-WireSHDSL CPE that complies with PAM16 Line Code, G.991.2, and G.994.1 standards, and is equip…

Payment Terms: Paypal,western union,L/C,D/A,D/P,T/T
---
Description
Specification
Application
Order information
Q&A
Product Tags
Reviews
Description
The 2-WireSHDSL CPE that complies with PAM16 Line Code, G.991.2, and G.994.1 standards, and is equipped with an Ethernet switch with four 10/100BaseTX auto-sensing ports. The SHDSL Router modem provides basic Internet access via a 10/100Mbps Ethernet switch, and a SHDSL WAN port with routing function over SHDSL.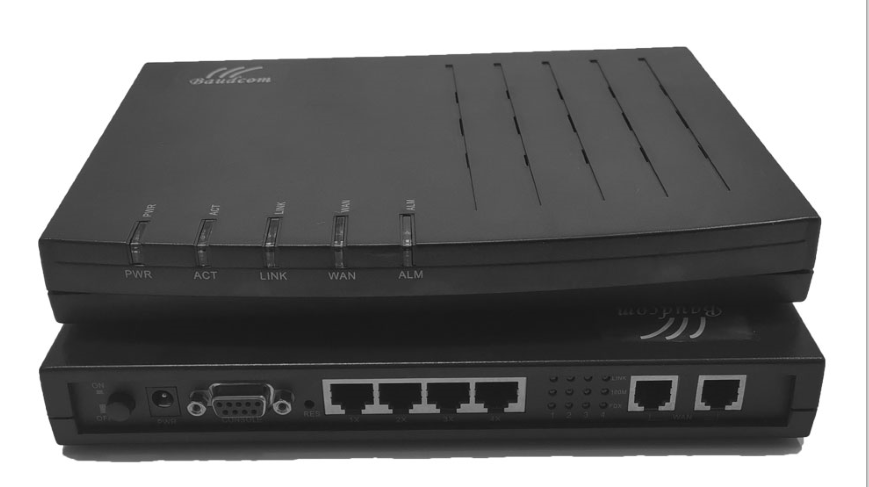 Features
1.High Speed Symmetrical Data Transmission on one Pairs of Twisted Copper Wire ITU standard PAM16 Line Code, comply with G.991.2 and G.994.1 standards Support Annex A and Annex B mode operatio
2.Support Wetting Current range from 0.3mA to 3mA
3.One Switching hub with 4 * 10/100Mbps auto-sensing ports for PC or LAN connection
4.Provide the broad range of Symmetrical Multi-rate Data Transmission from 144Kbps up to 2.3 Mbps
5.Support PPPoE (RFC2516), PPP (RFC2364) and IP (RFC 2225/RFC1577) over ATM over SHDSL
6.RFC2684 (RFC1483) Bridged/Routed for both LLC/VC MUX Support IP unnumber
7.Support VLAN
8.Support Port-PVC function
9.DHCP server supported for easy LAN IP address management
10.Allows LAN users to access Internet through Network Address Translation (NAT, IP sharing) simultaneously Local OAM&P through command line interface via RS-232 Craft port
11.Configuration and management by local Telnet, SNMP, and WEB Browser through the Ethernet interface and remotely through SHDSL interface Firmware upgradeable through TFTP
12.High performance, simple operation and low power consumption
Management
 The G.SHDSL router modem can be easily managed by WEB management and Console management. The user can configure and mornitor the device easily.
Navigation bar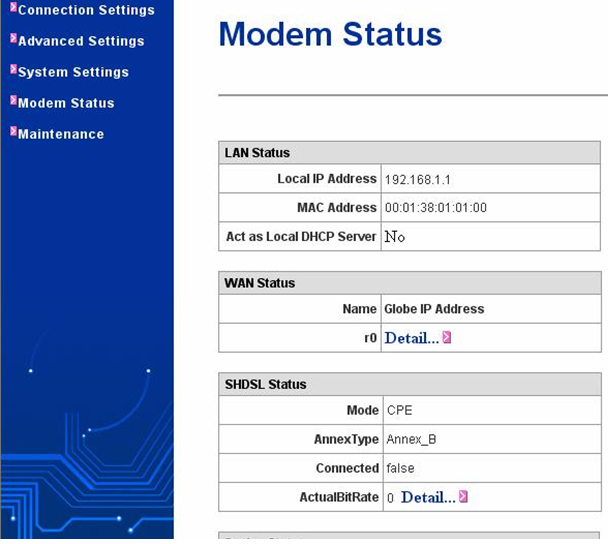 Application

Point to point application

Connection with DSLAM point to multi-point application